Catch Fish with
Mike Ladle
"HOME."
Information Page
SEA FISHING
For anyone unfamiliar with the site always check the FRESHWATER, SALTWATER and TACK-TICS pages. The Saltwater page now extends back as a record of over several years of (mostly) sea fishing and may be a useful guide as to when to fish. The Freshwater stuff is also up to date now. I keep adding to both. These pages are effectively my diary and the latest will usually be about fishing in the previous day or two. As you see I also add the odd piece from my friends and correspondents if I've not been doing much. The Tactics pages which are chiefly 'how I do it' plus a bit of science are also updated regularly and (I think) worth a read (the earlier ones are mostly tackle and 'how to do it' stuff).
So much for 2018 - Happy 2019!
2018
At Christmas I usually list the interesting catches of the year but it's a long time since I updated the details of the way I fish so I thought it might be worth looking at the way things have changed over the years.
To set the scene it may be worth defining the way I fish. I've always been a follower of the late Richard Walker who had an approach of keeping tackle as simple as possible (rod, reel, line, hook – nothing else). Although I'm no 'specimen hunter' and have never been too bothered about catching monsters or records I do like to land decent sized fish that will provide a spot of action. So, is it possible to increase your chances of sport?
For years I've fished for many species in rivers, lakes and seas including a good chunk of the globe. I'm just as happy trying to tempt salmon as snook or bream as bonefish but I do have preferences for tactics. I've never been a great distance or fly caster and although I used to do a lot of fishing from a small rowing dinghy these days almost all my fishing is from the shore or bank-side. However, bait, lure and fly tactics each have their place as ways of tempting fish.
What you need to know is what the fish you are after prefer to eat and where it is. As a rule small baby fish have tiny mouths and eat titchy plants and animals such as plankton. As they grow they shift their diet to larger, meatier items. Even those species such as rudd , chub or mullets which feed largely on plant material, algae and particles of detritus will not turn up the chance of a protein-packed square meal and at times become obsessed with consuming larger fish, crustaceans or molluscs.
All fish will be trying to get a good return for the energy they expend in feeding. The size of 'preferred prey' depends to some extent on the nature of the 'predator' (its mouth gape, shape and tooth type) and the availability of food. For example if a glut of small fish such as minnows, sprats, sandeels (or indeed of other small items such as maggots, shrimps, isopods, squid, etc.) are easily available fish of every size and species which can manage it will be mopping them up. On the other hand when food is, as usual, relatively scarce each will usually resort to its own specialty. It's always a bit of a compromise but, for example, big pike and bass will seek out or scavenge for really large prey while seatrout, perch, chub or jacks will settle for their strong point - chasing tiddlers.
FISHING IN 2018
My pal Bill spinning a race for bass.
Bill again in a bass angler's sunset.
Another good friend Nigel playing an accidental seatrout in the river.
A third Friend Richard playing a good bass caught close in.
My friend Ben's lads pleased with a grayling.
So, the way I see it is that there are generally two choices for me to consider, either fish a big lure, live-bait or dead-bait for the large mouthed species or choose a small lure or live-bait to tempt the 'fry feeders'. This is what I've been doing for some time now – I'll look at this year's results as an illustration. Bass first:-
I've caught decent bass using all sorts of approaches - fly, hard plastic, soft plastic, live-bait and dead-bait all work. My son Richard, a keen sea angler, said to me this week - "What a difference there would have been if you'd had modern methods when bass were bigger and more abundant in the 1970s". He was spot on.
As the average size of local lure-caught bass seems to have reduced in recent years I've concentrated on free-lining with large dead-baits (a whole mackerel fillet or head and shoulders or a whole sardine) and it seems to be a success. For choice I would be using live mackerel or other bait fish but, like most live-baits, they are often hard to come by when you need them. The comparison with results from me and my lure-fishing pals, same period, same stretch of shoreline, says it all.
1970s-1980s Mike and friends
Rod-hours per all fish on lures 2.4
Rod-hours per 4lb+ fish on lures 6.0
2018 Me and friends
Rod-hours per all fish on lures 1.4
Rod-hours per 4lb+ fish on lures 43.6
Rod-hours per all fish on bait 3.3
Rod-hours per 4lb+ fish on bait 3.8
Of course you have to bear in mind that in the early days we were much less experienced. We were using longer, less powerful rods and nylon-mono lines (8lb BS was the standard for bass spinning). None of this was much of a problem but for sure the capability of avoiding weed by using surface poppers and sliders or weedless soft plastics would surely have produced even better catches when we were learning the ropes. Anyway, here are some of this year's examples.
BASSING WITH LURES IN 2018
A smallish bass for me, caught on a lure.
...and a mullet on the fly gear. These fish received less attention this year.
A schoolie on a surface popper.
A fish taken, from the boat, on a surface lure by Phil.
Martyn with a bass that took a lure.
One of Bill (and Poppy)'s many lure caught fish of 2018.
BASSING WITH FREELINED BAITS IN 2018
The sardine bait is still on the circle hook.
A fairly typical bait caught bass - none were more than a few metres out from where we stood.
Richard's first one on a big bait.
A modest one in late November for me.
Nigel had several good fish on big baits.
And another one for me.
Martyn's best and first freelined bass caught in December.
When I first fished for pike in my local river they were a by-product of salmon angling so they were all caught on small lures and I (and my pals) never had a fish of over 8lb or so. After some years a switch to larger lures and then to sizeable live or wobbled dead baits resulted in a high proportion of doubles with best fish of over thirty pounds. I was never keen on using treble hooks because of potential gill damage so I first switched to large singles and more recently to circle hooks with the barbs flattened. Now even large fish are generally 'lip' hooked and easily returned. Effectively it's my bass gear with a wire trace added.
PIKE IN 2018
Phil with a small pike taken on a lure from the river.
One of my pike with the bait (fished on a 4/0 circle hook) that was its downfall.
A nice bait-caught pike for me.
When it comes to 'fry-feeders' either lures or natural baits can be effective but again live-baits are frequently difficult to come by so I mostly use artificials. Here modern braided lines and light rods have been an eye opener. Even small balsa plugs have enough weight to be cast a good distance on such gear and the tackle is strong enough to make lure losses almost a thing of the past. Effective small lures include hard and soft (weedless or not) plastics as well as small Mepps-type spinners. The key characteristics of course are size and vibration. Fry feeders, like many predators, are often most active at dusk and dawn so it is possible to make lures even more conspicuous by adding a tiny Betalite.
All of these lures can be effective for chub, perch, small pike, seatrout, mackerel, scad, school bass and even wrasse. There are of course differences in the where, when and how they must be fished but there is no always or never and there will always be surprises.
FISH ON SMALL LURES
Jacks are a nuisance on small lures so I always use a wire trace.
Even little chub are keenly predatory.
Perch probably go best on spinners.
Tiny trout take plugs ferociously.
When I seek chub a jointed black and silver buoyant Rapala is good in any size from seven to eleven centimetre length. Even baby chub will take the larger lures. 'Chubby' spots close to overhanging bushes are always worth a try as are smooth glides. In the latter a long upstream cast and a steady retrieve is a good bet. Chub, however large, are not great fighters compared to most other plug taking fish but they are usually fine looking creatures.
GOOD CHUB ON PLUGS
A good chub hooked on the mid-body hook.
An even bigger one on the tail treble.
Seatrout are susceptible to the same lures as chub but they are much more likely to be in streamy situations. Even the foaming white water downstream of weirs will produce trout to a plug or spinner even if it is fished downstream or across the flow. There's a lot to be said for fishing at dusk and on into darkness. At this time more fish will move into streamy water or the shallow tails of pools but they are very wary even in the dark and a careless approach may result only in bow waves from disturbed fish.
BIG TROUT ON SMALL LURES
A good trout from below a weir.
A fine seatrout in the dark.
Mackerel, scad and school bass all take spinners just as well as trout and the addition of a luminous shaft to a silver blade seems to be attractive to all of them particularly at and after dusk and dawn. Pollack, as usual, take plastic eels well and wrasse are partial to nipping the tails of plugs on flooding tides in daytime.
THE LUMINOUS SPINNER
An early morning mackerel on a luminous spinner.
... and a scad on the same lure.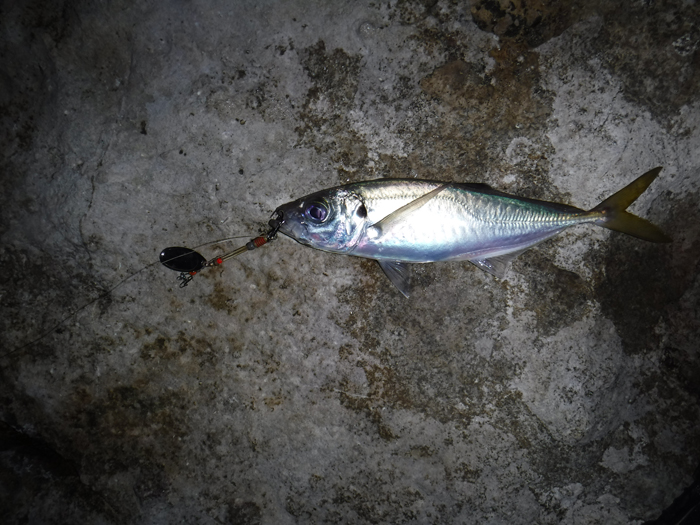 Little Delta eels fished on fly gear give good sport with pollack.
The only other fishing I've done without circle hooks, apart from catching baits, is surface fishing for carp with crust. For years I've simply tied a strong size 6 hook to the end of my line, impaled a crust and lowered it into the margin before closing the bale and waiting for a fish to hook itself. All in all 2018 was an interesting year and my pals and I had some good fish among the various blanks and difficult sessions. Perhaps 2019 will be even better.
CARP ON CRUST
One of my margin fished carp.
... and another.
... and another.
THE END - MERRY CHRISTMAS
The annual picture of me Bill and Nigel.
– PLEASE TELL YOUR TWITTER, FACEBOOK, EMAIL FRIENDS ABOUT THESE BOOKS.

NEW BOOK

"Fishing for Ghosts - Successful Mullet Angling"

written with David Rigden IT'S AVAILABLE FROM -
"The Medlar Press"

ALSO THE NEW BOOK

"The Second Wave"

Written with Steve Pitts this is a SEQUEL TO THE BESTSELLER "Operation Sea Angler" IT'S AVAILABLE ON PAPER OR FOR YOUR KINDLE FROM -
"Veals Mail Order"
and from Amazon
"Amazon"

If you have any comments or questions about fish, methods, tactics or 'what have you!' get in touch with me by sending an E-MAIL to - docladle@hotmail.com