Catch Fish with
Mike Ladle
"HOME."
Information Page
SEA FISHING
For anyone unfamiliar with the site always check the FRESHWATER, SALTWATER and TACK-TICS pages. The Saltwater page now extends back as a record of over several years of (mostly) sea fishing and may be a useful guide as to when to fish. The Freshwater stuff is also up to date now. I keep adding to both. These pages are effectively my diary and the latest will usually be about fishing in the previous day or two. As you see I also add the odd piece from my friends and correspondents if I've not been doing much. The Tactics pages which are chiefly 'how I do it' plus a bit of science are also updated regularly and (I think) worth a read (the earlier ones are mostly tackle and 'how to do it' stuff).
Coelopa maggots at last.
I have just had to replace my ancient computer and, as usual, it has involved doing things that I don't understand. As it happens my eldest son Paul is a wizard with hardware and my youngest son Dan is a software expert working in Australia. Together they have more or less set me on the right lines but please forgive any gltches - they will be my fault.
To get down to the nitty gritty, for some reason (probably a combination of weather conditions, tides etc.) this year has been devoid of good 'maggot tides'. Usually, seaweed middens accumulate along the shore' these become infested with the larvae of Coelopa frigida, the seaweed fly, and on the highest spring tides of each series these maggots wash into the sea and attract mullet and bass to feed on them. As I say, this just hasn't happened. Anyway, the springs were building and prompted by my pal Bill we decided that at last there were one or two spots where large masses of weed had accumulated and it was likely to be worth an hour or two on the shore.
On the chosen evening I rolled into the car park just as Bill was putting on his gear and together (with our fingers crossed) we trudged along the shore to our chosen spot. When we arrived sure enough there was a good pile of rotting weed and already a few mullet were skimming maggots off the surface. Initially Bill started with his usual weighted, weedless soft plastic while I decided to have a dabble with the fly gear. It was fairly rough with lots of weed in the margin and a stiff cross breeze which made casting the fly tricky. Bill however was into bass straight away and began to catch fish of two or three pounds at fairly regular intervals. I really struggled with the maggot fly but I did manage to hook the odd mullet. It was really tricky getting them through the surf and the weed and (much to Bill's amusement) four in a row came off after being played for varying lengths of time. I did catch a couple of little bass but a bit disheartened I switched to spinning with a soft plastic and landed another modest bass although it was more or less futile, the fish seemed to prefer Bill's Slug-Gill. I went back to a wet fly and this time I stuck at it. I managed to hook and beach a further couple of bass. The surface feeding fish had thickened up by now so I switched to a tiny soft plastic fishy-fly and eventually landed a smallish (2-3lb) mullet before finishing up with a lovely mullet of over four pounds at the end of the evening. The fishing was so enjoyable that we'd scarcely noticed that we were getting soaking wet in a series of showers.
Our total catch for a couple of hour's fishing was Bill - twelve bass - all in the 2-3lb class on his white Sluggill, while I managed six bass and two mullet on the Sluggill and the fly best mullet 4.5lb. Not surprisingly we arranged to try again the following evening.
One of Bill's dozen bass.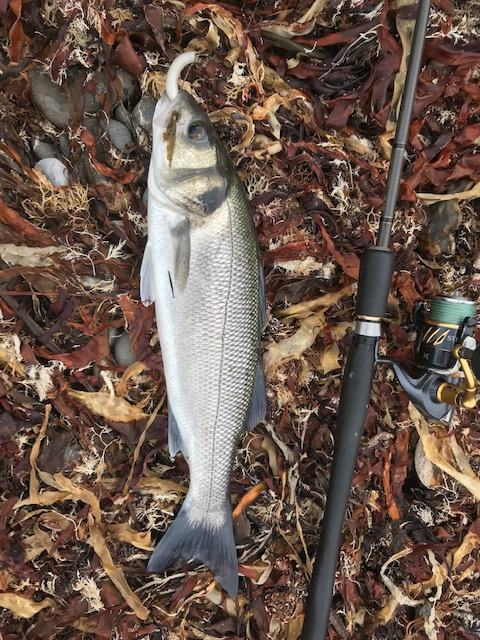 I'm in. Note the weed midden under my feet and the rough, weedy water for some distance out.
I beach a bass on my spinning gear. Bill took the pictures on the night.
Unhooking my lure-caught bass.
I'm in again - this time on the fly.
A fly caught bass. This fly was shortly to be lost in the weed.
One of my nice, fat mullet.
This one took a little soft plastic fish.
My best mullet. Note that I'm a bit wet - but cheerful.
– PLEASE TELL YOUR TWITTER, FACEBOOK, EMAIL FRIENDS ABOUT THESE BOOKS.

NEW BOOK

"Fishing for Ghosts - Successful Mullet Angling"

written with David Rigden IT'S AVAILABLE FROM -
"The Medlar Press"

ALSO THE NEW BOOK

"The Second Wave"

Written with Steve Pitts this is a SEQUEL TO THE BESTSELLER "Operation Sea Angler" IT'S AVAILABLE ON PAPER OR FOR YOUR KINDLE FROM -
"Veals Mail Order"
and from Amazon
"Amazon"

If you have any comments or questions about fish, methods, tactics or 'what have you!' get in touch with me by sending an E-MAIL to - docladle@hotmail.com