Catch Fish with
Mike Ladle
"HOME."
Information Page
SEA FISHING
For anyone unfamiliar with the site always check the FRESHWATER, SALTWATER and TACK-TICS pages. The Saltwater page now extends back as a record of over several years of (mostly) sea fishing and may be a useful guide as to when to fish. The Freshwater stuff is also up to date now. I keep adding to both. These pages are effectively my diary and the latest will usually be about fishing in the previous day or two. As you see I also add the odd piece from my friends and correspondents if I've not been doing much. The Tactics pages which are chiefly 'how I do it' plus a bit of science are also updated regularly and (I think) worth a read (the earlier ones are mostly tackle and 'how to do it' stuff).
How was 2019?
Here in Purbeck I exchange information about the fishing with a few friends and sometimes we get together for a spot of fishing. I may not be able to do many (?any) more web pages until the beginning of February so I shall try to sum up the best of the year's fishing for me and my pals :-
The first decent catch was made by Bill in April. Here's a version of his report-
"It was a crap, little tide (1.4m high), crap wind 20mph East, crap temp - freezing, crap state of tide - low. Fished for nothing for an hour then went for a walk, having a few casts as I went. Got to the end (as far as was possible to go) and thought 'thats it I'm going home'. One last cast (at 09:00). Had a hell of a bite and landed a 61cm fish after a good scrap. Very fat - didn't look spawned out HOORAH! After photographing the fish I had another bite two casts later.....another heart in mouth fight and an even better fish on the beach. 71cm! DOUBLE HOORAH! I wanted to weigh this fish out of curiosity but my scales are rubbish. According to the BASS weigh v length chart a 70cm fish is 8.4lb and a 72cm fish is 9.17lb so I'll take 8.75lb :) Fished on for an hour - no more bites. Headed back to where I'd started fishing to find it alive with fish - I could clearly see the tails, not pointed top and bottom like mullet but slightly rounded like bass...I had one cast and hooked another beauty at 69cm\8lb!!!! TRIPLE HOORAH! After I'd landed the fish the rest disappeared but I stayed for an hour just in case. Simply another run of the mill fishing trip - ."
Bill's good early bass.
Apart from a 60cm bass caught by another pal, Nigel in mid-May the fishing was quiet, apart from a few schoolies and the odd smallish mullet. Phil had a 63cm fish on a Savage gear sandeel in early June but things were still painfully slow. Despite the apparent absence of big bass I persisted with large, free-lined mackerel baits; but apart from one stonking run (which I missed) in mid-May, another decent bite in early June and a third one in the first week of July - NOTHING! It was grim.
In late July Nigel told me that the Chesil was producing countless mackerel, plus scad and small bass on the lures but I only gave it one try. Phil had a ten pounder on livebait from his boat at Poole - the best of our fish this year. In August, I fished one of Purbeck's several shingle beaches with my pal Martyn Burton, we had almost 40 bass in two short session on a variety of lures - mostly soft plastics. Three of the fish were in the 5-7lb range and none were tiny. A few mackerel and pollack made up the catches on the two trips; what a relief.
Martyn unhooks a good bass on the shingle.
'Old fashioned' plugs still work.
There were very few decent 'maggot tides' this season so fishing for visible mullet and bass (often our banker) was rarely an option. However, at the end of August Bill, Nigel and I had a couple of decent sessions on a 'maggot tide'. Between us we landed 36 bass and 8 mullet. On the second evening I caught several of both species on my fly rod and as well as a number of 4-6lb mullet I lost one huge one as I tried to beach it after a long period of give and take. I seemed to be almost continually playing fish. On that second evening Bill's best bass was 71cm. All this was despite very tricky fishing fishing conditions due to a big surf and lots of weed in the water.
A nice bass for me on the 'maggot' tide.
Now I'm into a mullet on the fly gear.
A decent thicklip.
Nigel with a bass and me with a mullet.
I continued with my bait fishing but by September the baits were constantly pestered by tiny congers and pollack. Martyn did eventually manage one reasonable bass on a freelined bait in November but I blanked.
One of several decent pollack late in the season.
Martyn's bass on bait.
The highlight of my own season came late on and was quite a surprise. At the beginning of October fishing with Martyn: it was a very high tide and I was unable to get to the race that I wanted to fish because of a dangerous swell and strong flow. I had to stand well back and cast up between two rocky ledges. I cast my Evostix lure up-current between the ledges and almost as it hit the water it was seized by a big fish. I knew at once it was a good one so I hung on tight and desperately tried to drag the bass back towards where I stood. There was no chance of playing it out in the narrow gap between the ledges and it continued to rip off a lot of line against the tight clutch before crossing the ledge through a gap and pinging the braid on the rocks. I was mortified.
My bass went through these rocks.
...when the conditions were like this.
Later on at the start of November I went to the same spot on my own. Conditions were almost identical to when I'd lost the big fish. Again the only fishable spot was by standing clear of the surf and casting up into the narrow gap between the ledges. It was just like fishing a fast flowing river. I was gobsmacked when, as the weedless lure began to sink it was snatched and I found myself attached to another good bass. Now, since losing the first one I'd given the situation a lot of thought. I KNEW that 'strong arm' tactics were not an option. So, plucking up my nerve, I eased the check right off and with the rod rod held high above my head I let it go against minimal resistance. I reasoned that the fish would know the best way through the jagged rocks and into the open water beyond. It did! Once it was in the clear I simply kept the rod high, tightened the clutch and played it until I was able to work it back through a big gap in the ledge. What a fine fish, 9lb+ and my best of the year.
Success after much thought and a touch of good luck.
Contrary to popular opinion I don't only fish for bass and mullet; so here are some of the other fish my son Richard and I caught this year.
Rich on a Brazilian beach.
A nice jack.
A big leatherjacket.
Remoras were a bit of a nuisance from the kayak.
We had plenty of decent stingrays.
... and the odd decent snapper.
Back at home I had -
... grayling.
... pike.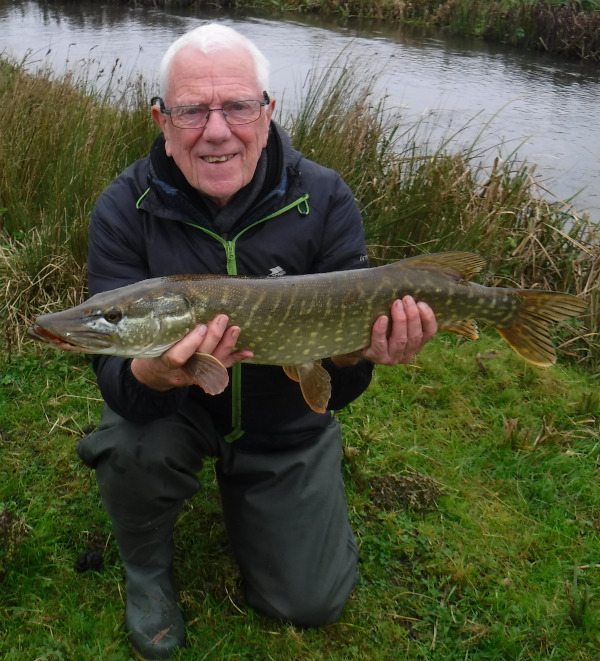 ... carp.
... big perch.
... and lots of seatrout.
Anyway, that's about it. I hope that you all have an excellent Christmas and New Year and that the fishing in 2020 is even better. Cheers, Mike.
I can't resist a final little advert for the latest book - "Angling on the Edge", the book which Steve Pitts and I have been wrestling with for a few years. Our main problem was finding a sensible way to get it published but Steve, as usual, came up with the goods and it is now in print and (we think) looking very good. The initial printing was sold out before we even had any copies and we are really pleased with the outcome.

If you would like a copy simply email your name and postal address to Steve and follow these instructions: -

Including p&p the book is £32.50 and you can make a payment by Paypal to Steve's Paypal account at stevejpitts@gmail.com

Steve says "please make the payment a family & friends or they will take an additional £1.50 fee."

– PLEASE TELL YOUR TWITTER, FACEBOOK, EMAIL FRIENDS ABOUT THESE BOOKS.

"Fishing for Ghosts - Successful Mullet Angling"

written with David Rigden IT'S AVAILABLE FROM -
"The Medlar Press"

ALSO

"The Second Wave"

Written with Steve Pitts this is a SEQUEL TO THE BESTSELLER "Operation Sea Angler" IT'S AVAILABLE ON PAPER OR FOR YOUR KINDLE FROM -
"Veals Mail Order"
and from Amazon
"Amazon"

If you have any comments or questions about fish, methods, tactics or 'what have you!' get in touch with me by sending an E-MAIL to - docladle@hotmail.com