Catch Fish with
Mike Ladle
"HOME."
Information Page
SEA FISHING
For anyone unfamiliar with the site always check the FRESHWATER, SALTWATER and TACK-TICS pages. The Saltwater page now extends back as a record of over several years of (mostly) sea fishing and may be a useful guide as to when to fish. The Freshwater stuff is also up to date now. I keep adding to both. These pages are effectively my diary and the latest will usually be about fishing in the previous day or two. As you see I also add the odd piece from my friends and correspondents if I've not been doing much. The Tactics pages which are chiefly 'how I do it' plus a bit of science are also updated regularly and (I think) worth a read (the earlier ones are mostly tackle and 'how to do it' stuff).
Trying to catch fish in Australia!
My youngest son Dan and his family live in Perth, Western Australia. For the past six or seven weeks we have been on holiday over there. Needless to say it was a proper "family" holiday and my opportunites for fishing were pretty limited; however, I did manage a few hours on the seashore and here's the story of how I got on.
The first couple of weeks were spent in and around Perth, meeting the relatives, playing with the grandchildren etc. I managed one short session during a picnic by the Canning River. The river at this point is tidal with sandy/muddy flats and stretches of easily accessible shoreline. The sky was blue and cloudless, the sun was blazing down and it was bloody hot. I saw lots of birds but they were mostly sunning themselves on the beach and gave no indication that there was any fish activity. Anyway I opted to spin with a little jointed Rapala and much to my surprise, I did catch a fish which turned out to be a yellow-tailed trumpeter (the locals called it a yellow tailed grunter), a species that I'd never seen before.
On a trip to the local newsagents during the first week of our stay, I bought a couple of sea angling magazines with WA titles; I was hoping to glean a spot of information about the fishing potential. The first and most striking thing I noted from the pages was that many Aussie anglers seem to fish almost exclusively for 'something to eat'. Although it seemed there was clearly some 'big fish potential' from the shore, for species such as mulloway, samson fish, trevally and tailor (bluefish) - the main targets were often what I would call 'bait sized' species. The common preferred catches were various types of "whiting" which, although tasty, don't often exceed about 30cm in length, "herring" which look like our herrings but are usually smaller, squid and swimming crabs. All of these are no doubt tasty but none are notable for their size and swimming power.
Magazine features devoted a good deal of space to describing how to catch your breakfast/dinner/supper of tasty tiddlers, crustaceans or molluscs. There was also a fair amount written about lure fishing but this was mainly from boats for a tempting selection of bigger fish. Lure fishing from the shore, while not exactly in its infancy, often seemed to be a fairly novel activity (much as it was over here before the 1980s); bait fishing with pretty light gear was certainly the 'in thing'.
My main chance of some serious fishing was on a six day trip with the family to Busselton - a small seaside town and popular holiday resort. It was the summer holidays so as you might expect there were quite a few swimming, sunbathing, sand-castle-building vacationers to contend with during the day. The beach itself was a long stretch of clean sand and because the sea was shallow for many kilometres out and the wind was generally offshore it was usually pretty calm.
One other feature of Busselton is the 'jetty', a massive wooden structure extending almost two kilometres out to sea and equipped with a narrow gauge railway to carry visitors to the end and back. At the tip of the jetty is a glass-walled viewing chamber which provides a chance to see what is swimming about under the structure without getting wet. The jetty itself is open, and equipped, for angling and has facilities for fishing and cleaning the catch. Needless to say most anglers head for the jetty and apparently, at times some worthwhile catches are made. In the daytime it is usually packed with holiday fishers and at night the keen local 'fishos' take over.
To return to my fishing activities. I'd gathered from my reading that there was a small, up and coming group of keen anglers who hunt yellow finned whiting on plugs, poppers and flies from the beach and shallow sand flats. Although the fish are small I fancied trying to catch one; so I tackled up the old 4Surespin rod with 20lb braid, a nylon trace, a short length of knottable wire (in case of tailor) and a small jointed Rapala. Two days of spinning at the crack of dawn and again at dusk never produced a touch. In the course of my spinning I walked many kilometres of beach and saw a few shoals of small fish (about as big as the plug) following the lure and fairly often I spotted the dark shapes of stingrays gliding over the sandy seabed between 2 and 20 metres from the edge. I was a little disappointed but still determined.
On the third morning I decided to venture onto the jetty. It was still dark when I started and, having no bait to use, I persisted in my spinning. Since the water was a bit deeper than from the beach I tried a couple of different lures to cover the depth range. Again I was fishless but, as it became light enough to see, I noticed a few squid under the pier and by jigging a small pearl Redgill even managed to induce a couple of abortive attacks.
As I trudged back to the house for my breakfast I thought about what to try next. I was becoming desperate to catch something (anything) so later that day I walked into town to the local tackle shop to buy myself a squid catcher. Since the squid had attacked a white lure I searched the shelves for a white jig and found just one amid the rows of multi coloured creations. I bought it with the view to trying the following morning. That evening I reverted to spinning the beach, resulting in the usual blank. However, I did meet a couple of local blokes catching whiting on paternostered bits of shrimp. They were pretty friendly and gave me a lesson in how they fished for whiting - they had caught several. I thanked them for the info and wished them good luck before going home.
The next morning found me on the jetty as it got light with the usual spinning outfit plus my white jig. I lowered it down and watched as it sank steadily in about five metres of clear water. I began to flick the rod, making the little plastic torpedo twitch up and down near the seabed. For perhaps ten minutes nothing happened then I saw a dark shape rocket towards the lure, there was a sudden increase in the tension of the braid and I was into my first squid. I drew my catch to the surface and allowed it to squirt out a cloud of black ink before lifting it onto the deck. I'd already decided that I would keep any catch as prospective bait so I took its picture killed it and popped it into my poly bag.
At this point I was joined by a local man armed with three rods and a bag full of gear; he was just returning from a night's fishing further out on the jetty. We exchanged the usual "Any good?" and it turned out that he'd blanked (which encouraged me a bit). When he saw my squid he followed suit with a squid jig. As it happened I caught two more molluscs which he gratefully accepted before I packed in and left.
That evening I gave the fishing a miss but I'd stowed the squid in the bottom of the freezer (without the knowledge of my wife or daughter in law - they might not have approved!). By now I had decided that my spinning activities were unlikely to be productive so the following morning I was back on the beach freelining with a substantial chunk of squid on a short wire trace and a 6/0 circle hook. As soon as it was light enough to see I spent some time just walking and looking for rays along the beach. It was exactly like stalking any fish and I simply tried to lob the bait in front of and beyond the moving fish, then drawing it back to a prospective collision course. The first fish to respond was a good one and after circling over the bait it picked it up. The ray must have felt the line because it set off at high speed for the horizon. I held my breath and closed the bale arm, the rod bowed and then, after a powerful run, the line went slack. "Oh dear!" I said. There was nothing for it but to try again. Shortly afterwards I had another bite which I hooked and after a brief struggle landed a beautiful southern fiddler ray of perhaps three or four kilogrammes. I had no more bites before I packed in.
Now it was my final morning and I was more determined than ever to try and catch something (anything) else. I had decided to give it a go in the local style. The previous evening I set up a light paternoster with a small lead and two size 8 carp hooks on 3.5 kg droppers. I walked the 2k or so along the beach in the dark and as I arrived at my chosen spot I was joined by John who I'd met there before. He was happy for me to fish the same spot so while he baited with shrimp I used slivers of squid from the remains of my frozen specimen. We both started getting bites almost at once and we each landed a yellow finned whiting. I then had a dragging bite which produced a beautiful blue manna crab and this was followed by a herring. Meanwhile John landed a couple more whiting and so gave him my three captures to add to his catch. By now I was feeling satisfied to have caught three 'new' species. The sun was coming up so I baited up for a last cast. Within minutes I had a strong pull and connected with something much stronger than a whiting.
Line poured off the reel against a reasonably tight clutch (as tight as I thought my nylon traces would stand) and I hoped that the hook-hold was a good one. Ten minutes of give and take followed and it was soon clear that I was into a fair sized eagle ray. Eventually I had it in the shallows and was able to grab it by the spiracles and slide it ashore. At 13kg I felt that it was a satisfactory end to my Australian fishing. Of course it wasn't a mulloway or a big trevally but as I said goodbye to John and walked back along the beach I felt that most of my decisions had been justified and I was a happy man.
A selection of birds by the Canning River:- ibis, pelicans, crested terns, cormorants and silver gulls.
Twenty minutes of spinning for me.
A small yellowtail trumpeter (Amniataba sp.) - my catch.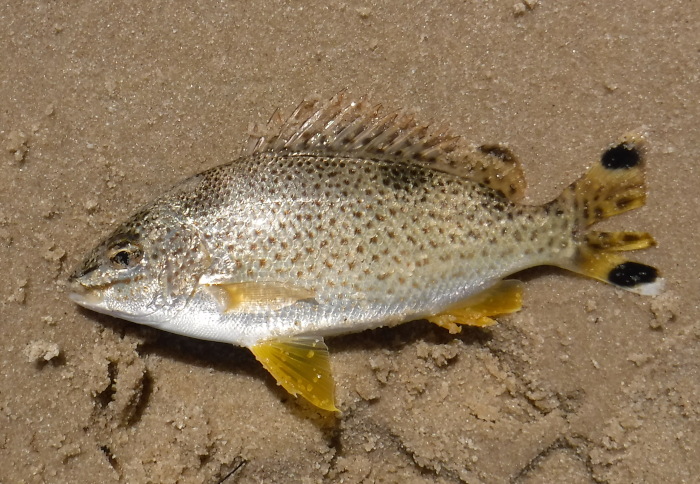 Busselton jetty - in the background - 1.8 kilometres in length.
Fish, mostly scad and herring, under the jetty.
My first squid on the new lure.
The fiddler ray - not big but beautiful.
John is the nearest to camera.
John's pal concentrating on his fishing.
Typical yellow finned whiting in the bucket - breakfast?
Close up of a whiting just like the one I caught.
A nice blue manna crab for me.
My herring.
Last cast and a long struggle to land my eagle ray - the icing on the cake.
– PLEASE TELL YOUR TWITTER, FACEBOOK, EMAIL FRIENDS ABOUT THESE BOOKS.

NEW BOOK

"Fishing for Ghosts - Successful Mullet Angling"

written with David Rigden IT'S AVAILABLE FROM -
"The Medlar Press"

ALSO THE NEW BOOK

"The Second Wave"

Written with Steve Pitts this is a SEQUEL TO THE BESTSELLER "Operation Sea Angler" IT'S AVAILABLE ON PAPER OR FOR YOUR KINDLE FROM -
"Veals Mail Order"
and from Amazon
"Amazon"

If you have any comments or questions about fish, methods, tactics or 'what have you!' get in touch with me by sending an E-MAIL to - docladle@hotmail.com