Catch Fish with
Mike Ladle
"HOME."
Information Page
SEA FISHING
For anyone unfamiliar with the site always check the FRESHWATER, SALTWATER and TACK-TICS pages. The Saltwater page now extends back as a record of over several years of (mostly) sea fishing and may be a useful guide as to when to fish. The Freshwater stuff is also up to date now. I keep adding to both. These pages are effectively my diary and the latest will usually be about fishing in the previous day or two. As you see I also add the odd piece from my friends and correspondents if I've not been doing much. The Tactics pages which are chiefly 'how I do it' plus a bit of science are also updated regularly and (I think) worth a read (the earlier ones are mostly tackle and 'how to do it' stuff).
Mother Nature takes no prisoners.
My pal Steve Pitts and his wife have just had a holiday in Antigua. Some years ago we went over there together so I was a bit envious when Steve told me of his plans. However, I couldn't go and that was that; so I was delighted when, on Steve's return, he sent me an account of their adventures. My recent fishing has been non-existant, so I shall repeat the account more or less as it was told to me:-
If you've ever planned for a dedicated fishing trip overseas, or to do a bit of fishing (as and when time allows) during a family holiday, one thing that you can never factor in, is Mother Nature's hand. Will she smile on you and bless your trip with lots of fish, or be in a bad mood and hamper your efforts at every turn? My recent trip to Antigua turned out to be a bit of both, so here is my trip report ... warts and all. We had three weeks holiday, spent at three different locations, so I'll split the report into each week's fishing, which will give an idea of the areas that I fished and the changing methods, according to weather conditions and species that I was anticipating. Week 1. The French Connection I'd pulled out all the stops for this one and booked a villa on the North East coast, high on a clifftop, facing the Devil's Bridge Nation Park. Well - it was Mrs P's birthday, so something a little special was called for.
What I hadn't realised, was that Villa H was the residence of the French Consulate to Antigua & Barbuda, so when we rocked up to the double gates I was a bit perplexed ... had we come to right place? It turned out that we had and Christiane (The Consul) showed us around and got us settled in. One of the reasons that I had chosen Villa H was that it had direct access to the sea via a flight of steps and a concrete platform at sea level, above which was a sunbathing platform, from which Mrs P could keep an eye on me.
The reef at Dian Bay ... pictured on our last day at Villa H.
One thing that I hadn't counted on was a howling N. Easterly wind which caused problems on a number of fronts. Firstly: it meant that I was casting into a strong headwind, so distance was an issue. Secondly: the 30lb braid that I was using, billowed out into the wind, so avoiding loops and tangles became problematic. Thirdly: as we were there over spring tides, the very shallow reef area in front of me was being pounded by half-metre waves, and at times retrieving anything but a surface lure became impossible, unless lure losses were to become inevitable.
The first evening session was a bit of a disaster, when I hurried down the steps for a first dabble before it got dark. After several casts I suffered a braid tangle around the tip ring, which took a while to unravel and then next cast the braid wrapped around the 3rd ring from the tip mid-cast, the braid cracked off and a brand new mag slider 125 went sailing off into the sunset! I thought that a good enough reason to adjourn for a cold bottle of Carib beer and a bit of supper.
Steve fishing from the platform.
The following morning at 06:00 was dead high tide, so I thought I'd chance a red head YoZuri mag minnow . With a cautious retrieve it was possible to work it back over the reef in the hope of a barracuda, but I was hit and then 'reefed' by something solid and very un-barracuda-like. That brought things to a stalemate for a while, as it was well and truly lodged in the reef, although every now and then it moved, and I could feel the 50lb fluoro leader rub against the rocks. Sideways pressure made no impression on it, so I climbed several of the steps onto the sunbathing platform (Mrs P wasn't out of bed yet) to gain an upwards advantage and that seemed to work as it dislodged the fish which then tried to regain its sanctuary in the reef, but I managed to stop it this time. From my vantage point I could see that it certainly wasn't a cuda and neither was it a big snapper, which I was almost certain by now that it was. It was a chunky little Nassau grouper and it had all-but swallowed the lure.
A nice grouper - not a bad start
After a bit of delicate surgery, to remove both the trebles, I managed a quick selfie and slid it back, just as a wave slapped the concrete platform and drenched me from head to toe. "That's what you get for being kind" I said to myself and with that I headed back up the steps for breakfast. Apart from the grouper, the predominant "catchable" species over the reef appeared to be needle fish. The bloody things were everywhere and while they give a good tug they are sods to hook on a treble. Our next home from home was further into Dian Bay and a bit more fishy looking with loads of mangroves and a few jetties, so snook and small tarpon were on the cards. So were jacks, which harass the baitfish under the jetties, or so I was told. There is also a 2 man kayak that I would have the use of, so mobility would be much improved too. But for now, I had the choice of sticking with fishing from the concrete platform in the difficult conditions, or sussing out somewhere more fishable; which is what I decided to do.
Devil's Bridge?
I thought I would take a look at Devil's Bridge, which is a natural rock arch, carved out by the sea. Mother nature clearly wasn't going to give me a free pass on this venue: Fishable? I think not ... Nowadays, as long as you have an internet connection, Google Earth is the ideal way to scope out potential fishing spots, so this is what I did, looking for inlets and creeks which might be sheltered from the horrendous N.E wind. A short drive away and I found a ramshackle little pier, festooned with discarded crab cages and the odd discarded fishing boat and was pleasantly surprised to find that there was little wind here and the pier was a handy place from which to fish, but while it looked promising there was what can only be described as a power boat, towing an inflatable doughnut with three people in it, doing circles of the creek at break-neck speeds and making a ferocious racket. Undeterred, but not entirely optimistic, I had a few initial casts with a mag slider and on the third cast (with the power boat bearing down on me) I had a bite, which turned out to be a modest jack. I was amazed that it had taken the lure given the disturbance!
Powerboat pests!
I have the whole scenario on my GoPro but have grabbed a still (above) to show how close this latter day Donald Campbell was when I got the bite. A little later I hooked a very lively barracuda and was wondering how I was going to unhook it when it leapt and threw the hooks. "That solved that problem!" I said to myself. I gave the inlet about an hour more fishing time and apart from another small barracuda, which followed the lure up to the jetty and a shoal of mullet which were milling around creating a 'mud' I had no more bites and saw no other fish. I had a few mullet spinners and some imitation ragworm back at base, so decided I'd go back later and try for the mullet. Of course, the combination of all the rain and still conditions in the creek had turned it into mozzie central, so by the time that I decided to leave I had 17 angry-looking bites, which in an odd way, were like medals of honour - honour having been satisfied.
Part deux
Our week-long stay at Villa H had come to an end and it was time to move to our second accommodation. Now this was a bit of a punt on my part, as it was advertised as "a delightful eco cottage" and the photos were very reminiscent of the simple but very comfortable cabana at Sue and Chris Harris's Steppingstones resort in Belize (we stayed there 15 years ago). Mrs P had approved of the booking, based on the photos and description, but when we arrived, I could tell by the look on her face that she wasn't too impressed. We've been married for over 40 years and I can recognise her WTF? look instantly. The owner showed us around the cottage - a wooden construction, built into a hillside with stout wooden stilts supporting a spacious decking area at the front and overlooking the inward end of Dian Bay; directly opposite 'The Verandah' all-inclusive resort. Below, was a private jetty, two kayaks and a nice centre-console sports boat moored alongside.
The shed with the chandelier.
I would describe the cottage as - simple, basic, compact and cosy. The kitchen area was very well- equipped, with everything you could hope for, considering the available space. There was a large double bed with obligatory mozzie netting, a dining table, a sideboard (fishing tackle store/rod rack) and the walls were decorated with some lovely nature-inspired artwork created by Kristina, the owner's wife. The overall decor was I guess, what one would term 'shabby chic', but then I'm no Laurence Llewelyn-Bowen am I? There was an open-air shower and toilet with flushing bog ... not a composting bucket, mains electricity, hot and cold running water and that essential requirement - a hosepipe for washing off the fishing gear and reef boots at the end of each day. But it's crowning glory was a crystal chandelier which hung from the rafters and swung elegantly in the breeze, which wafted throughout the building. Mrs P clearly had reservations and wasn't shy about letting me know. However - it did have two redeeming features
The two redeeming features, relaxing.
Mrs P, being very much a cat person, took an instant liking to the moggies and I saw the first glimmer of approval beginning to show. At least I'd done something right by booking somewhere with resident cats! Once settled in (lugging two suitcases down a flight of 27 steps in 110 degree afternoon sun is a bitch) I began to see a change in Mrs P's views. There was, of course, the view - One bonus point. The cats - Another bonus point. The peace and quiet - Two more bonus points. The fridge contained a bottle of red and a bottle of white wine. Are you getting the picture? I scored no bonus points for the kayaks however. When I first mentioned that we could take them out for a paddle around the bay, her precise words were "Eff Off! ... You are NOT getting me out on one of THOSE things" I took the emphasis of NOT and THOSE to mean that she would not be seen dead in either of the kayaks, but I thought my powers of persuasion might win the day, so decided to play a long game and not to argue the point until we had really settled in. I put her initial negative reaction down to the culture shock of moving from an ultra-modern, architect-designed, glass and concrete edifice ... into a much smaller, timber constructed ..... well ..... basically ...... not to mince words ...... a shed. I, on the other hand, bloody-well loved it and I bet that every one of you would have loved it too. I had formulated a plan to use the kayaks to access the mangroves on the opposite side of the bay, which I reckoned were a five minute paddle away. There I would go into stealth mode and drift along the shoreline looking for snook and possibly tarpon, which I assumed would be holed up, tight to the overhanging undergrowth. So, at the crack of dawn the following morning, I set out on my first .... and I mean my first ever ... go on a kayak. I surprised myself at how easily I got to grips with the paddle and in no time was lining up for my first drift, as the sun was still a good 15 to 20 minutes away from rising.
This is more like it - as dawn is about to break.
Everything was going according to plan, but then I felt the presence of unwanted visitors. Being so close to the mangroves, with not the slightest of breezes, I was being pestered remorselessly by midges. I pulled out from the mangroves and the midges followed me - so I crept back in, keeping tight to the mangroves, despite the pestering. I hooked a small barracuda on a red head Maria Secunda (it was a clear lure but I had painted the head with Mini Cooper Chilli Red paint).
Small barracuda on hand-painted lure.
Sorry about the crap photo but it was a slow shutter due to low light. After another 10 minutes I noticed a familiar smell pervading the still air. One which I wasn't expecting. It was the smell of frying bacon, with underlying hints of fried eggs, undertones of toast and yes, somewhere in there, sausages were playing on the olfactory senses too.
By now I must have drifted below the resort's restaurant and the overpowering smells of a full fried English breakfast were pouring from the clifftop above, like a pyroclastic flow of mouth-watering temptation. I'm not sure whether it was the persistence of the midges, or the smell of the full English (probably both), but I could stand it no longer and paddled back across the bay to the shed for breakfast. Mrs P was waiting for me at the jetty, with a lovingly prepared ...... bowl of muesli !!!
Muesli awaits on the jetty.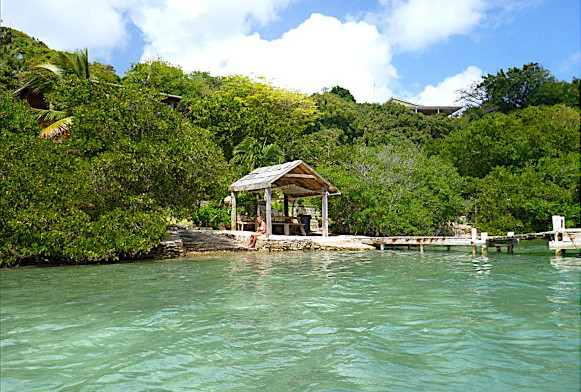 Regular readers of my ramblings may recall Mrs P's competitive streak when it comes to our holiday fishing exploits. She loves to catch lots and lots of small fish and, if the numbers go in her favour, then she declares herself as the best angler out of the two of us. Me - I would rather hold out for a bigger fish, or a fish of a specific target species, so often, my focused approach costs me the outright title of 'Best Angler'. I wasn't surprised when she asked me to set up her fishing gear .... a spool of line with a size 8 freshwater hook tied on the end. Baited with small strips of frozen squid, purchased for the sole purpose of providing bait for our holiday, she set about harassing the myriad of small fish that lived under and around the jetty. Within the first hour she had caught twenty - a mixture of grunts and small mangrove snapper - and I could begin to see where this was heading. It didn't matter that I baited the hook each time, or extracted some of the fish when they swam under the jetty and hid under rocks, or unhooked each and every fish .... they were all her fish and she was kicking my ass. And she quickly became the cats' new best friend.
Mrs P.,handline and furry friend.
Now. she can catch tiddlers all day long, as far as I'm concerned, but I had to admit that I was envious when she landed a nice squirrel fish on her hand line.
Decent squirrel fish.
I settled into a routine of 3 kayak sessions per day - out at first light, another at mid-morning and then a mid-afternoon or early-evening stint. It was during one of the mid-afternoon sessions that I slowly drifted into a corner of the bay, where I had mangroves to my left; and where there was a right angle in the cliff, a line of mangroves in front of me. Then the gentle breeze died away completely and the kayak sat motionless on the oily-calm surface of the bay. The tropical sun beat down on me and without the cooling breeze the temperature rose until it was pressure cooker hot. The only sound was the droplets of water, dripping off the ends of the paddles and gradually I was falling into a soporific state of drowsiness. Casting and retrieving my mag slider 115 became automated, and I lost track of time and any semblance of concentration. Then it happened. BOOM!!!

BOOM!!! number 1.
The surface of the bay erupted, as if a depth charge had gone off two metres from the bow of the kayak. In an instant, I was fully awake again and shouted out aloud "Tarpon!" Then, equally loudly, "Bollox!" When the fish threw the hook, as tarpon often do. I sat there, stunned, for quite some time. Cursing my stupidity for letting that fish get away because I had lost concentration - but in reality is very tricky to hook tarpon on plugs armed with trebles, so perhaps I was being too hard on myself. I regained my composure and made a few more casts with the mag slider, feeling all the while that I had blown my best chance of the biggest fish of the holiday. Cast ... plop ... twitch .... retrieve .... twitch ... twitch ... retrieve ... twitch ... retri BOOM!!! another hit - but this time closer to the mangroves.
BOOM!!! number 2.
Boom!!! number 3.
"Bollox! - missed it again." But I could sense that that fish was serious, so I kept up the retriBOOM!!! The rod bent over hard as the fish hit the lure - then, nothing, as again the treble hooks bounced off the ceramic-lined jaw of a tarpon. "SHIT !!! - that thing was nearly in the frigging kayak when it took." My running commentary was laced with expletives and I laughed when I realised that I was on my own, in a two-man kayak, with no-one to share the excitement. If only Mrs P had been there I thought. She might change her mind about fishing for tiddlers. Back at the shed, with an ice cold Carib as a consolation prize, I pondered my predicament. Surely, single hooks and soft plastics were the way to go. I'd brought some Senkos, Do-Lives and paddle tail shads with me, so something has to work. The following morning, I was back out on the water with a 5 inch Keitech swimbait mounted on an Eagle Claw Trokar hook. Well the barracuda absolutely loved them. I had numerous baits chopped off cleanly ... no; on second thoughts that should read 'surgically' .... behind the hook.
Soft lure still intact
I was fortunate to get this one back with its tail still attached, but clearly, using swimbaits when there were so many cuda around was going to be an expensive business. So I switched back to the surface slider, just to see if there were any tarpon present, planning to switch back to the paddle tail when the slider got hit, but from that point on I had no more takes. Mrs P continued her surge up the leader board with yet more small fish captures. In an effort to bring her down a peg or two, I wandered out onto the jetty and chucked the mag slider out into the bay with a lazy sideways cast. As it hit the water, a lighting streak of green and silver hit the lure off the surface and I was into another barracuda.
The bane of soft plastics.
Whilst trying to subdue the acrobatic fish, I explained to Mrs P that catching fish off of the jetty is easy. The real challenge is catching from the kayak, but she'd never be able to prove that if she didn't go out in it. I felt that I was getting another bite when she said " We'll see about that!" As anyone who has owned a cat will tell you, unlike dogs, they are not loyal creatures. This time, it was me who was the cats' new best friend.
Mrs P. takes to the water.
Fishing from the kayak was never as good as that hot, still afternoon session, but I did manage a couple of small jacks one morning and got to see, close up, an osprey catching fish with exquisite precision; and my pre-baiting worked on Mrs P. She did eventually get on the Kayak with me and paddled us both back across the bay after a bite-less session. She said she'd like to do it again and when I told her I'd thought of buying one, to my surprise, she didn't say "Eff Off! ... You are NOT buying one of THOSE things!" and just to prove that's no angler's tale ...
A few slightly classier craft in Jolly Harbour.
By the time we had to vacate 'The Shed', Mrs P had fallen in love with it and we were both quite sad to be leaving. Our previous holidays to Antigua had all been centred around the large marina village of Jolly Harbour on the west coast of the island, so it seemed a little rude not to spend at least one week there. This was another venue where easy fishing (for tiddlers) is literally right on your doorstep ... or at the end of your decking to be more precise.
It was bit of a pain to have to pack up my tackle, break down the rods and stow my (unwashed) shorts and fishing shirt in the suitcase for the cross-island transfer to Jolly Harbour. Mrs P, on the other hand, merely tucked her handline into the glove box in the car and she was ready to go. To cut a long story short, we had been let down by our first choice of villa, when a previous visitor allowed the shower tray to overflow and caused significant water damage. So we were offered an alternative, in another part of the marina where we had not stayed before, so fishing here would be flying by the seat of our pants, so to speak. Besides the pleasure craft, yachts and multi-million-dollar gin palaces, there are some very nice-looking fishing craft.
Noah cleaning his catch and feeding the tarpon.
Hungry tarpon.
One of my first ports-of-call was to see if there were any tarpon lurking against a collapsing section of marina jetty, where we had caught several 'baby' tarpon in the past. Well - the tarpon were still there, but the rotting wooden decking had succumbed to hurricane Irma, which swept across Antigua in September 2017 and went on to completely destroy 80% of the buildings on neighbouring Barbuda, necessitating a complete evacuation of Antigua's sister island. I met up with a familiar figure of local fisherman Noah, who was just cleaning his day's catch aboard his little boat. We said hello and one of the first things that I noticed (I just couldn't help it) was the attendant shoal of tarpon, assembled in an orderly queue, waiting for the fish guts to be dropped over the side of Noah's boat.
With each deposit of guts, the water would boil as a lucky tarpon collected its free meal. I asked Noah if he'd been having good luck fishing ... the bucket of small snapper and jacks suggested that he hadn't. He told me that since the Chinese boats had arrived to help out after the hurricane the fishing has been harder and now he only works Mondays, Tuesday and Wednesdays. He said that on the other days (Thursdays, Fridays, Saturdays & Sundays) he waits for God to put more fish back in the sea for him to catch. I'm not a believer in God myself, but think I understood his take on fisheries management and wondered if our commercial fishermen shouldn't adopt Noah's logic to help our fish stocks.
Kenny?
Back at the villa and Mrs P had upped her game and was dangling over the decking . There were loads of little mangrove and grey snapper to keep her happy. but there were three or four snapper that were in the 2lb bracket that I had my eye on. It was quite clear that these had been caught before as they were extremely suspicious of any bait with a hook in it. I could drop any amount of bait (squid, chicken or bacon) down the piling of the decking and they would inspect it and then suck it in; but a piece of any-of-the-above with a hook in it would send them scarpering. I wasn't sure if they could see the line (fluoro) or if it was the weight of the size 8 Drennan hook which made the baits sink slightly quicker, but in a week of trying for them I never came close to getting a nibble.
On a couple of mornings I ventured to the little fishing harbour of Urlings, where there are two stone groynes from which to fish. I have seen tarpon here and caught barracuda and this is where Mike Ladle lost a very big fish several years ago - probably a large jack. I started to fish before the first hint of light was in the sky and was soon being attacked by clouds of midges again. Despite a liberal dousing of insect repellent the little sods were getting in my ears and up my nose and making fishing pretty unpleasant. I pulled my Buff up over my head and covered my nose, so that it acted like a Balaclava and I must have resembled South Park's Kenny, with only my eyes peering out from behind the Buff.
Colourful food van at Darkwood lagoon.
But the irritating little bastards still persisted and it felt like I was being stabbed in the eyes with a hundred pins as they concentrated their assault on the only exposed part of my face. So I put on my wrap-around sunglasses on, despite that fact that it was still too dark to see and this helped for a short while, but once they'd found their way in, the eyeball stabbing continued until I thought 'F this for a game of soldiers' and ran as fast as I could (in reef boots) back to the sanctuary of the car. I thought that I would fish at Darkwood lagoon on the way back to Jolly Harbour. I know that there are (or at least were) tarpon and snook in there and gave it an hour without a take. Access is easy here if you follow a track by the bus stop ..... only I noticed that the bus stop notice was gone. Probably another victim of Irma's wrath. Now there is a Rasta food van parked opposite the track, underneath a palm tree (where there used be three). Who knows - when I go back next time the last tree and the van may be gone and I won't be able to find the track again.
Barracuda damage.
So, I struggled to really get going at Jolly Harbour, apart from a barracuda which kept attacking my lures. It was making short work of my FBMs like they were going out of fashion, but I couldn't hook it for some reason.
When I went to see if Noah had been fishing the following Monday, there had been a large diesel oil spill on that side of the marina and the air was thick with fumes. Noah's boat was tied up and didn't look like it had moved since the previous Wednesday. On the following day he was there, but said that he wasn't going out and was just cleaning his boat because of the diesel spillage. "God always likes to see a clean boat" he commented. I said I hoped that the fishing would pick up for him and he asked me to say hello to Jeremy Wade (River Monsters) who he watches religiously on cable TV. He's from England too - so I must know him?
On our final day we both blanked - not one fish for myself or Mrs P. That's a sign from God, I thought. Perhaps Noah's devotion was rubbing off onto me? Then another sign from God. I was standing on the decking, looking into the water, when my nemesis the barracuda drifted into view. About 2 feet away from it was a large grey snapper, probably 3 or 4 pounds in weight. They were swimming parallel to each other, both slowly fanning towards a shoal of glass minnows that they had penned against the dock wall.
I waited for the melee to begin, but before that happened, a beast of a mutton snapper sidled up with them, its pink and vermilion scales clearly visible in the clear shallow water .... and then all three smashed into the little minnows in a three-pronged attack. I can't recall having seen three different species of fish collaborating in an attack like that before and I may never see anything like it again.
It made me think that fish aren't unintelligent creatures and that they have a strong instinct for survival ... sometimes we can't catch them because they outsmart us. It's a hard fact to take, but accept it we must. And then it occurred to me that Mother Nature can be cruel (if you're a glass minnow) and destructive (if you are a small Caribbean Island nation) and awesome (if you are an angler lucky enough to see an osprey stoop and catch fish) or beautiful (if you catch a sunrise reflected in the scales of a Nassau grouper). But, she has a wicked sense of humour too. As I turned away to pick up my gear, once the barracuda and snappers had concluded their carnage... Mother Nature's idea of taking the piss had landed on my rod.
Mockingbird, rod and jetty.
For the ornithologically challenged amongst us - it's a mocking bird. The joke was on me. So, Mrs P ended up with the most fish caught and it was great to spend three weeks with her without the stresses of our lives back home. After 40 years of marriage, she still laughs at my terrible jokes .... and for that, every so often, I let her win 'The Best Angler' award. PS. Does anyone have a Kayak for sale. Preferred colour - Pink

– PLEASE TELL YOUR TWITTER, FACEBOOK, EMAIL FRIENDS ABOUT THESE BOOKS.

NEW BOOK

"Fishing for Ghosts - Successful Mullet Angling"

written with David Rigden IT'S AVAILABLE FROM -
"The Medlar Press"

ALSO THE NEW BOOK

"The Second Wave"

Written with Steve Pitts this is a SEQUEL TO THE BESTSELLER "Operation Sea Angler" IT'S AVAILABLE ON PAPER OR FOR YOUR KINDLE FROM -
"Veals Mail Order"
and from Amazon
"Amazon"

If you have any comments or questions about fish, methods, tactics or 'what have you!' get in touch with me by sending an E-MAIL to - docladle@hotmail.com