Catch Fish with
Mike Ladle
"HOME."
Information Page
SEA FISHING
For anyone unfamiliar with the site always check the FRESHWATER, SALTWATER and TACK-TICS pages. The Saltwater page now extends back as a record of over several years of (mostly) sea fishing and may be a useful guide as to when to fish. The Freshwater stuff is also up to date now. I keep adding to both. These pages are effectively my diary and the latest will usually be about fishing in the previous day or two. As you see I also add the odd piece from my friends and correspondents if I've not been doing much. The Tactics pages which are chiefly 'how I do it' plus a bit of science are also updated regularly and (I think) worth a read (the earlier ones are mostly tackle and 'how to do it' stuff).
Twenty years of change.
I have to assume that most anglers are, like me and my pals, "confined to barracks," by the dreaded plague. With recent floods and current pestilence having reached biblical proportions, my club lakes are closed, the rivers which have been over their banks for weeks are also closed and I can't go to the coast because - (a) I should be socially excluding (to be fair there's no need because I'm bloody anti-social) (b) Even my favourite coastal venues have been designated off limits and (c) ... and this is critical - My wife wouldn't let me out anyway, in case I get arrested or fined (or possibly forget who I am).
Anyway, I was wondering what to write about in lieu of catching fish, and it occurred to me that about twenty years ago (have I really been doing it that long?) I described the gear, tackle and tactics that I was using, SO it is surely time for some updates!
FLY FISHING FROM THE SHORE The clobber.
In 2002 I said that - By far the most correspondence relating to the web site was about fly fishing in the sea. So, I decided to give an account of how I tackled it myself. I'll start with a quick update:-
In essence, fly fishing, although it makes you conspicuous and involves a lot of arm waving, is still the most effective way of getting small, almost weightless lures out to the fish. If I think a bigger lure is more appropriate or will be more effective and if I need to fish deeper, I don't resort to clumsy lead-cored lines or 12 wt rods; I simply use spinning tackle.
As with any branch of our sport by far the most important thing is to be in the right place at the right time. Of course, on any day, there may be more than one "right place" (or none at all). Fly casting from the shore (even if you cast better than I do - and most people do!), generally restricts you to a range of a few tens of metres at the most, so "knowing and reading the beach" is vital. In any event it is ESSENTIAL to be properly dressed. I don't mean whether you wear an Yves Saint Laurent dress, a fancy hat or 'Kiss Me Quick' underpants but if you are to investigate the best spots and fish successfully you must be equipped for the job.
THEN: Me - dressed for the occasion in chesties and waterproof 'hoodie'.
NOW: No real change. Still in my 'Ocean' chesties (newer pair) and different hoodie.
In the earliest times we used to wear wellies (trainers in high summer) then we graduated to thigh boots. Still, we often came home soaked and hypothermic. Of course, even now the occasional rogue wave finds its way down inside the collar of my jacket. Instead of waders with rubber cleated soles I now have metal studded cleats and hardly ever fall down. Chest waders can be a bit sweaty for tramping along the shore in hot weather but there is the bonus of being able to cool off by standing up to your waist in water at the end of the route march.
Me, in the old days - sartorial as ever; Shorts and trainers are still fine in hot weather.
FLY FISHING FROM THE SHORE The Tackle
My tackle has never been the criterion of what is best for fly fishing in the sea, or anywhere else. All I can say that even a cack-handed angler can catch plenty of good fish on this simple gear along the coast of Dorset.
Over the years I have had a few fly rods and reels - none of them expensive. I've always preferred a longish rod to help reach over the waves and weed. My fly lines are always floaters because most of my fly fishing is in shallow water or at dawn and dusk when many species feed near the surface. In this type of fishing you need to keep everything (line, cast and fly) on or near the water surface because that is where the fish are feeding. Also, this helps to avoid most of drifting weed and rubbish.
I favour a 7-8 wt rod and a weight-forward floating line. The fish are usually pretty close in so casting distance is rarely a problem. If there is a very strong head wind and/or the fish are at long range it is best to use a different method. On the business end of the fly line is needle-knotted a couple of feet of ten pound mono and to the end of that another six feet or so of six pound nylon. The hooks are tied to the end of the fine cast. A decent length of backing is always a good idea because decent bass or mullet will easily strip off all the fly line.
Note the long rod, a fairly delicate touch is needed to land big fish in these conditions - we rarely use a net.
The result of care and concentration.
Fly reels are pretty basic bits of machinery. All that is needed is a 'trout-size' reel with a two way ratchet. I have never aspired to a custom made, salt-water, gadget although I know that there are some beauties about. Similarly, because I play my fish straight from the reel on pretty light nylon I've never felt the need for a clutch of any sort. When you're fishing in the sea it can be disaster to let coils of line fall on the weed piles or into the water. Never leave reels in the car boot or fishing bag as salt water is VERY corrosive.
In the 1970s my pal Terry was already using an automatic fly reel to catch mullet off the top.
All the gear for catching mullet off the top in the early days. Note my simple reel and the net (which was more trouble than it was worth).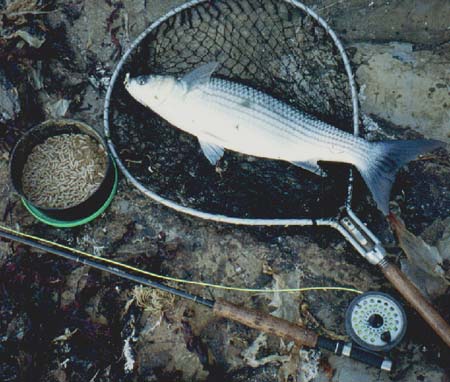 Quality always lasts: Steve tells me it's an (oldish) Abel saltwater fly reel - nothing to do with me!.
If you have any comments or questions about fish, methods, tactics or 'what have you.'get in touch with me by sending an E-MAIL to - docladle@hotmail.com

– PLEASE TELL YOUR TWITTER, FACEBOOK, EMAIL FRIENDS ABOUT THESE BOOKS.

NEW BOOK

"Fishing for Ghosts - Successful Mullet Angling"

written with David Rigden IT'S AVAILABLE FROM -
"The Medlar Press"

ALSO THE NEW BOOK

"The Second Wave"

Written with Steve Pitts this is a SEQUEL TO THE BESTSELLER "Operation Sea Angler" IT'S AVAILABLE ON PAPER OR FOR YOUR KINDLE FROM -
"Veals Mail Order"
and from Amazon
"Amazon"

If you have any comments or questions about fish, methods, tactics or 'what have you!' get in touch with me by sending an E-MAIL to - docladle@hotmail.com