, nylon leader

Catch Fish with
Mike Ladle
"HOME."
Information Page
SEA FISHING
For anyone unfamiliar with the site always check the FRESHWATER, SALTWATER and TACK-TICS pages. The Saltwater page now extends back as a record of over several years of (mostly) sea fishing and may be a useful guide as to when to fish. The Freshwater stuff is also up to date now. I keep adding to both. These pages are effectively my diary and the latest will usually be about fishing in the previous day or two. As you see I also add the odd piece from my friends and correspondents if I've not been doing much. The Tactics pages which are chiefly 'how I do it' plus a bit of science are also updated regularly and (I think) worth a read (the earlier ones are mostly tackle and 'how to do it' stuff).
Now some lure fishing.
Spinning then and now! 3 Softbaits.
There's no such thing as a 'Magic' bass lure which will always catch fish. These fish are pretty relaxed about their diet and, although they can be choosy at times, a wide variety of things that swim or crawl will be devoured. This means that almost any lure with a vague resemblance to a fish, crustacean, mollusc or worm can be (and surely has been) used to tempt a bass. So, every angler is likely to have a favourite lure or lures, and the reasons for their choice will vary. One may cast further than most others, another may be painted or printed to look exactly like some item of prey, and so on. The most common reason for lure'favouritism' (and the least logical) is probably that "it once made a good catch."
It is probably worth looking at how soft plastics have evolved for bass fishing. The first simple lure of this type was a bit of rubber tubing, sliced diagonally to give it a 'tail', and pushed onto a big hook. The bend of the hook gave the tube a 'twist and made the whole thing wriggle as it was drawn though the water. These "rubber sandeels" were useful for bass and particularly pollack. The next advance was the, more eel-like, translucent Porosand type and then the Red Gill and Mevagissey eels with their sandeel shape, long-shanked hooks and flappy tail vanes. These are so effective that it was many years before there were any significant advances.
A bass that I caught on an unweighted, spun, greeny-yellow Red Gill. You can tell it was decades ago by the swivel and the net in the picture.
This bass took a Red Gill-type eel fished on fly gear - similar small eels are excellent 'flies'.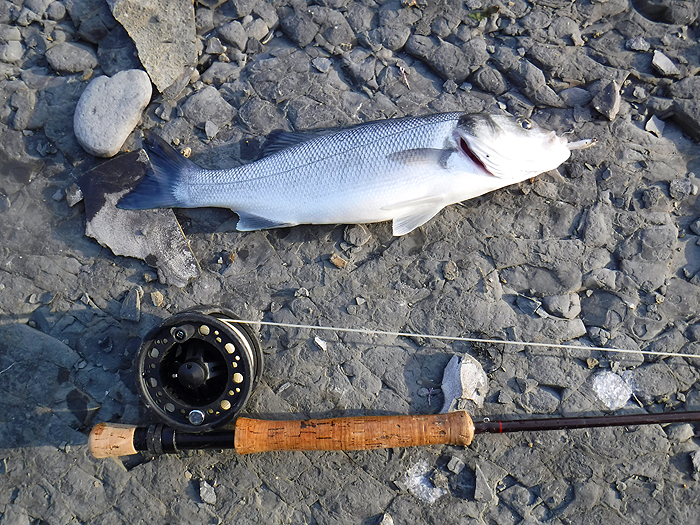 The fish usually sideswipe large lures but smaller versions are often engulfed.
When my pals and I first started fishing with buoyant plugs in the 1970s Red Gills, already well established bass catchers, were a popular second choice. The 18cm Red Gill was heavy enough to cast a fair way without added weight, and the addition of an uptrace swivel would act as a weed gatherer, preventing the big, single, belly-hook being fouled, sometimes this gave a slight advantage over plugs with multiple hooks. I soon realised that by sliding a barrel weight up the 'bum' of a Red Gill longer casts could be made, allowing me to cover more water. Some years later "Red Gill" began to market their Evo-Red Gill incorporating a fixed, weighted hook. In this version the heavy-duty, custom-made hook was now fitted so it would ride point uppermost, and the attachment eye was set back from the snout of the lure, somewhat reducing the risk of snagging the seabed.
A nice fish on the large Evo-Red Gill. Note the line attachment position and how the upward facing hook has lodged in the upper jaw of the bass.
If you want to catch bass the 18cm, Pearl, Evo Red Gill is still an excellent lure for use on spinning gear, and has caught me many bass over the years. However, all things change and this time the impetus came from the USA where many anglers fish in freshwaters for largemouth bass. In fact there is big money to be earned in bass fishing competitions - always a good incentive for innovation. These fish haunt snaggy, overgrown places, with lots of submerged bushes and trees. To make the most of the fishing it is often necessary to fish your lures right through the branches and weed beds. One tactic, which works well, is to hide the hook in a soft plastic lure so that the point will not catch on the vegetation. If the lure is soft enough, if it is the right shape and has a hook that is properly designed, it will rarely get hung up. When a bass bites, however, the pressure of the fishes' jaws causes the flexible lure to collapse, exposing the point of the hook and frequently hooking the fish. Needless to say this tactic was soon hijacked by American sea anglers in search of striped bass, and tackle shops on the eastern seaboard of the States are often stuffed with weedless soft plastics such as Slug-Gos. These lures work for our bass too, although it is often difficult to obtain the larger versions over here - presumably no one (but me) wants them any bigger than about 7.5 inches.
A bass taken on a whitish Slug-Go. The hook releases well but the lure has not much action.
Having had some success with Slug-Gos I was convinced about the benefits of weedless lures. What I really wanted was something similar, but with a built-in action that needed less rod work. Some years earlier my friend, Malcolm Brindle had told me of a French, soft plastic lure - the Super Sandra - that was very attractive to bass. The Super Sandra was available in a range of sizes and colours and had a long, broad tail which wriggled in a particularly eel-like manner. I'd bought a couple of these lures and sure enough they had a really seductive wriggle. The only problem being that the front 'body' section of the lure was bulky and thick so it could not easily be rigged in a weedless fashion. My first thought was that a combination of Slug-Go front and Super Sandra tail might be 'the business'.
This time it's on a Super Sandra lure - lots of action but too chunky to be weedless.
My first attempts at making a hybrid Slug-Go/Sandra lure, by superglueing the weedless front end to the alluring back end, were only a partial success. Then I bought myself a little 'hobby craft' soldering iron and, apart from the horrible, stinking, toxic smoke produced from the melting plastic (best to do it outdoors) it easily makes a perfect join. Although I doubt that lure colour makes much difference to the bass, I prefer pale (whitish) softbaits. Anyway, I tried to get the two lures of similar colours and I combined them to make a few of my 'Slandras', some with 'glow-in-the-dark' tails (sadly, they need to be activated with a lamp to make them shine). As I'd hoped they could be fished dead slowly in almost any conditions and they caught me quite a few good bass both in the dark and in daylight.
Time for a spot of 'welding'; sorry about the black Slug-Go.
Bingo! A weedless lure with lots of apparent fish attraction.
My son Marc, an inexperienced angler, with part of his catch made on a Slandra.
Beautifully hooked.
A fish I caught on a Slandra, the glowing tail looks a bit like this.
I have now been making and using the Slandra lures for some years. Several of my fishing pals followed suit and were soon constructing their own hybrid, weedless lures, using various combinations of front and back ends. Most of the things they tried caught fish. My friend Bill Fagg was one who realised the potential of a hybrid lure and he began to make a waggy-tailed, Red Gill version, which he christened the Slug-Gill. Bill usually fishes his white Slug-Gills with an added cone lead of appropriate size for the conditions, and the tactic has been highly successful.
Bill Fagg and me enjoying a spot of softbait fishing.
A fine bass landed on one of Bill's home-made Slug-Gills
After giving his lures a thorough testing, Bill contacted the manufacturers of Red Gills and suggested that they might like to produce a version of his successful design incorporating weedless rigging. They jumped at the idea, and began to produce a similar eel which they called the 'Red Gill Evo Stix', supplied with weedless hooks and a choice of 5,10 or 15gm cone heads. These lures are pretty good bass catchers. The only flaw in the manufactured design is that, at 145mm in length, they are shorter than Bill's original (presumably to save on material and keep down price) - I think that a 20cm version could be even better. They are relatively cheap and handy so I quite often use an Evo Stix lure myself - without any added weight - they cast a reasonable distance on fine braid, and I have caught some excellent bass in this way.
A bass caught by Bill on an Evo Stix lure - note the cone weight sliding on the trace above the lure.
One of my Evo Stix lures, fished without any lead.
...and an even better fish for me on an unweighted Evo Stix.
Of course there are quite a lot of soft plastic lures on the market these days. A number of them are extremely successful. On the debit side, some are expensive (I'm a mean Yorkshireman); they can be fiddly to set up (Slug-Gos, Slandras and Evo Stix are dead simple); they vary in durability (some survive only one or two fish whereas some of mine last years); and the heads incorporated in the design are often bulky and heavy. Few of them are made to be fished leadless and/or headless; which is my own preference as it allows them to be fished at snail's pace in dense 'weed soup'. No doubt there are more developments yet to come.
Weed soup - big bass will feed right in this and the situation is ideal for using an unweighted Slandra.
This one took the Slandra sliding through the weed in the previous picture.
If you have any comments or questions about fish, methods, tactics or 'what have you.'get in touch with me by sending an E-MAIL to - docladle@hotmail.com

– PLEASE TELL YOUR TWITTER, FACEBOOK, EMAIL FRIENDS ABOUT THESE BOOKS.

NEW BOOK

"Fishing for Ghosts - Successful Mullet Angling"

written with David Rigden IT'S AVAILABLE FROM -
"The Medlar Press"

ALSO THE NEW BOOK

"The Second Wave"

Written with Steve Pitts this is a SEQUEL TO THE BESTSELLER "Operation Sea Angler" IT'S AVAILABLE ON PAPER OR FOR YOUR KINDLE FROM -
"Veals Mail Order"
and from Amazon
"Amazon"