Catch Fish with
Mike Ladle
"HOME."
Information Page
SEA FISHING
For anyone unfamiliar with the site always check the FRESHWATER, SALTWATER and TACK-TICS pages. The Saltwater page now extends back as a record of over several years of (mostly) sea fishing and may be a useful guide as to when to fish. The Freshwater stuff is also up to date now. I keep adding to both. These pages are effectively my diary and the latest will usually be about fishing in the previous day or two. As you see I also add the odd piece from my friends and correspondents if I've not been doing much. The Tactics pages which are chiefly 'how I do it' plus a bit of science are also updated regularly and (I think) worth a read (the earlier ones are mostly tackle and 'how to do it' stuff).
Thanks for the encouragement Bill!
Although I've waved a rod about a few times in the past month, I'm still wary of 'hard spinning sessions'. However, my pal Bill has no such limitations and, in a recent email, he said, and I quote :- " After the most dreadful May and June I've cheered up, encouraged at last by fish in (from) three different locations, which proves it wasn't just the 'odd' bass or a small, localised shoal."
In fact he'd been fishing yesterday morning and sent me the following, slightly edited, email :-
"Arrived a bit later than usual (06:45) in order to fish through to the ten o'clock high water (a 2.1m tide). The sea temperature was 15.1 degrees C. and the wind a stiff North Easterly. In most places the sea was pretty calm but where I did a spot of (fruitless) long casting with my Toby there was a 3-4ft swell."
" I was the only one on the beach and, having walked some distance along the shore before starting my very first cast resulted in a nice, 3lb, fish. The tide was still well out so the water was shallow. After a few more biteless casts I moved on to a weedy corner where there were loads of Idotea and lots of fish, mostly mullet, in close. However I did catch another reasonable bass nearby. No more bites so I moved on and switched to a Toby to get a bit of distance, still nothing! I walked on further, having switched lures again to a Gunfish. A long walk and no more bites so I put on the 'old faithfull' Sluggill and began to head back. On the way I had another fat three-pound bass, and ten minutes later hooked a fourth one, which I played to the edge before it came off. By this time (11:00) I was really cheerful and didn't mind too much."
Well done Bill! I must get myself down to the shore and to hell with the aching arm. In fact I intended going this morning and left home in what looked like reasonable, if overcast, conditions at 04:00hr, but found that it was pouring down by the time I arrived at my chosen venue. Now I'm not a fair-weather-angler but the thought of a long hike followed by a soaking, for an hour's spinning was enough to prevent me getting out of the car. Next time!
Bill's first cast bass - a fat little beauty on his Swim Senko.
...and his second fish two hours later.
...and the third one on his way back. This time on the Sluggill.
– PLEASE TELL YOUR TWITTER, FACEBOOK, EMAIL FRIENDS ABOUT THESE BOOKS.
HOOKED ON BASS
Written with Alan Vaughan. NEW PRINT IN PAPERBACK. Copies available from all good book shops RRP £14:99 - "Waterstones"
ANGLING ON THE EDGE

Copies can now be ordered (printed on demand) from Steve Pitts at £34.00, inc. Royal Mail Insured UK Mainland Postage.
To order a book send an E-MAIL to - stevejpitts@gmail.com
FISHING FOR GHOSTS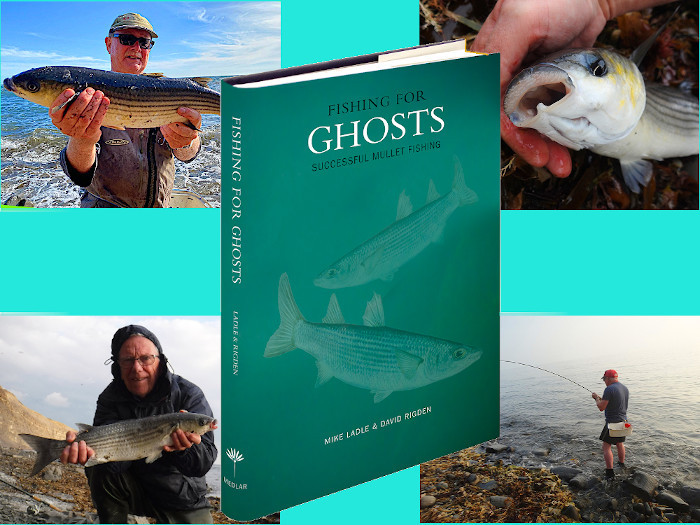 Written with David Rigden. Copies from "The Medlar Press"
THE SECOND WAVE
Written with Steve Pitts this is a SEQUEL TO THE BESTSELLER "Operation Sea Angler" IT'S AVAILABLE ON PAPER FROM -

"Veals Mail Order"
AND ON PAPER OR FOR YOUR KINDLE FROM
"Amazon"

If you have any comments or questions about fish, methods, tactics or 'what have you!' get in touch with me by sending an E-MAIL to - docladle@hotmail.com