Catch Fish with
Mike Ladle
"HOME."
Information Page
SEA FISHING
For anyone unfamiliar with the site always check the FRESHWATER, SALTWATER and TACK-TICS pages. The Saltwater page now extends back as a record of over several years of (mostly) sea fishing and may be a useful guide as to when to fish. The Freshwater stuff is also up to date now. I keep adding to both. These pages are effectively my diary and the latest will usually be about fishing in the previous day or two. As you see I also add the odd piece from my friends and correspondents if I've not been doing much. The Tactics pages which are chiefly 'how I do it' plus a bit of science are also updated regularly and (I think) worth a read (the earlier ones are mostly tackle and 'how to do it' stuff).
Could have been worse!
It's quite a long time since I hiked over the rocks, where I tore my calf muscle, to fish the local shoreline. The other day my pal Bill phoned to tell me that the tides were looking good for the fish to be maggot feeding and he asked whether I fancied joining him for a few casts. I felt as though it was time to 'bite the bullet' and have a go, so I said "Yes."
He picked me up at about 16:00hr and we drove down to the coast. It promised to be a beautiful evening with the sun shining and a light SE breeze - to be honest we'd have preferred the sea to be a bit rougher, but beggars can't be choosers. It was good to have a natter with my pal about the prospects and we set off along the rocks towards our chosen spot in high spirits. As we walked (I was going a bit slower and more carefully than usual) we kept our eyes peeled for any signs of fish activity. The sea was slightly choppy but in the sheltered area closest to the cliff there was a ten metre strip of calm, glassy water. Any signs of feeding fish would have been obvious to us and, had there been the slightest ripple or twtch of a fin , for sure one of us would have seen it. Certainly, Bill is one of the most observant anglers I've ever met and often sees fish that others miss. There was NOTHING!
Eventually we reached the predicted, potential 'hot spot' and began casting our soft plastic eels (Bills with a nose weight and mine weightless) - not a sign! After perhaps half-an-hour of biteless winding, high tide was approaching and we were beginning to get the message. I pressed on fishing and Bill had a break to look for fossils, one of his other hobbies. His eye for fossils is just as good as his eye for fish. After a few minutes he called me over to look at a huge fossilised bone that he'd found - the vertebra of a mighty plesiosaur. My pal was almost as pleased as if he'd had a decent bass.
Bill's plesiosaur must have been a bit bigger than the fish we saw.
It was now almost high water and I suggested to Bill that we walked the remaining 200m or so of beach just in case there was a bit more weed, perhaps some more maggots and, perish the thought, possibly a few fish. When we got toe the limits of our walk there was a bit more weed on the beach and so we began to fish again. It wasn't long before we noticed lots of tiny surface rings made by surface feeding sandsmelts. It seemed possible that the presence of these baitfish might just attract feeding bass. Over the next ten minutes the number of sandsmelts increased and there were even one or two thicklips skimming the surface for Coleopa maggots. I put down the spinning rod and picked up my fly rod armed with a tiny, 6cm, white Delta eel, just in case there might be a small bass or a stupid, fry-feeding mullet present but still no bites.
I made my final change in an attempt to catch something (anything); replacing the Delta with a small white and tinsel streamer fly armed with a tiny treble hook - this 'fly' had caught me quite a few bass in the past when the going was tough (see Saltwater page 694). For five minutes nothing then, suddenly, I was in! The fish fought like stink and Bill switched on his phone to take a few pictures. He had plenty of time, because the fish wasn't going to give in easily. I could tell from the nature of the struggle that it wasn't a bass but a mullet and, although it was clearly no monster, it was game. The give-and-take went on for five or ten minutes (it always seems longer than it is) before I was able to slide it ashore to have it's picture taken.
After we'd done the honours and returned my mullet, it was clear that the fish were still very thin on the ground, so we agreed that it was time to trudge back, while it was still light. One good fossil and one modest mullet - it could have been much worse!
I'm in! Bill took the pictures on his phone.
Still battling as only mullet can.
Nice for me to get something from the sea at last.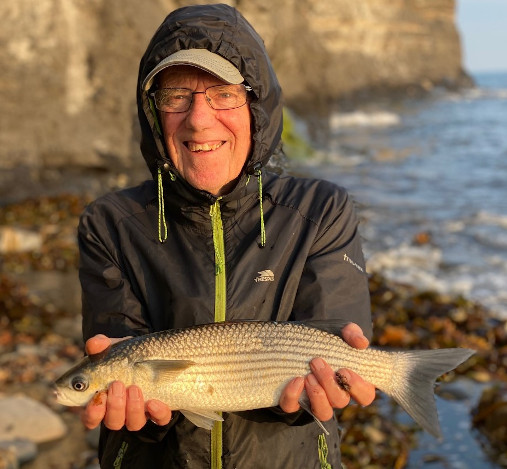 – PLEASE TELL YOUR TWITTER, FACEBOOK, EMAIL FRIENDS ABOUT THESE BOOKS.
HOOKED ON BASS
Written with Alan Vaughan. NEW PRINT OF THE ORIGINAL: IN PAPERBACK. Copies available from all good book shops RRP £14:99 - "Waterstones"
ANGLING ON THE EDGE

Copies can now be ordered (printed on demand) from Steve Pitts at £34.00, inc. Royal Mail Insured UK Mainland Postage.
To order a book send an E-MAIL to - stevejpitts@gmail.com
FISHING FOR GHOSTS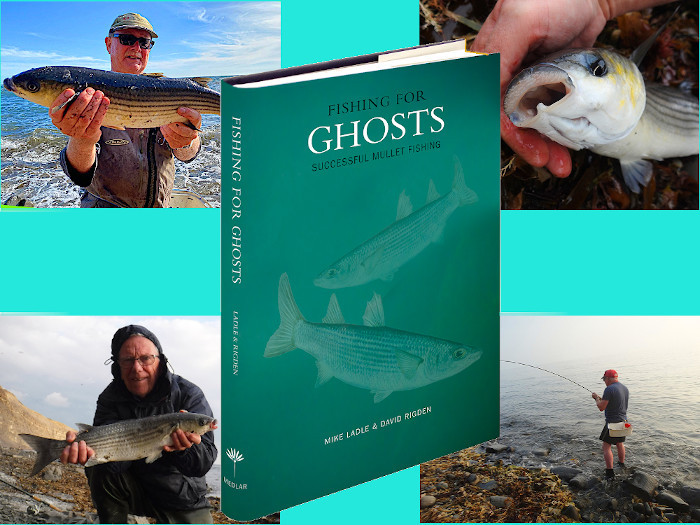 Written with David Rigden. Copies from "The Medlar Press"
THE SECOND WAVE
Written with Steve Pitts this is a SEQUEL TO THE BESTSELLER "Operation Sea Angler" IT'S AVAILABLE ON PAPER FROM -

"Veals Mail Order"
AND ON PAPER OR FOR YOUR KINDLE FROM
"Amazon"

If you have any comments or questions about fish, methods, tactics or 'what have you!' get in touch with me by sending an E-MAIL to - docladle@hotmail.com