Catch Fish with
Mike Ladle
"HOME."
Information Page
SEA FISHING
For anyone unfamiliar with the site always check the FRESHWATER, SALTWATER and TACK-TICS pages. The Saltwater page now extends back as a record of over several years of (mostly) sea fishing and may be a useful guide as to when to fish. The Freshwater stuff is also up to date now. I keep adding to both. These pages are effectively my diary and the latest will usually be about fishing in the previous day or two. As you see I also add the odd piece from my friends and correspondents if I've not been doing much. The Tactics pages which are chiefly 'how I do it' plus a bit of science are also updated regularly and (I think) worth a read (the earlier ones are mostly tackle and 'how to do it' stuff).
A trip to Portugal
My third son Richard and his wife Ana and their two girls have now been living near Porto, in northern Portugal, for just over a year. Of course it has not been a normal year, so with the complications involved in Brexit, Covid and moving from their home in Brazil to another continent, Richard's fishing time has been seriously restricted. In fact it was not until mid-summer that he managed to get organised and to dangle a line in the sea. As usual, on the shores of a new country, it took him a while to catch anything but, eventually, he got the hang of it and by fishing regular, short sessions from one or two local marks he managed to catch quite a few bass.
Anyway, in late October Lilian and I managed to arrange a visit to see the family for the first time in three years. As I packed the spinning rod the fly rod and the appropriate bits and pieces of tackle I was pretty excited at the thought of trying some different stretches of coastline. Within a day or two of our arrival we paid a visit to the local fish market. There was a wide variety of fish on show; notably various sea breams, scabbard fish, gurnard, scad, sardines in profusion and, by far the most prominent were beautiful bass; including the odd double figure fish. Very encouraging! While we were at the market the six of us had a tasty lunch at the associated restaurant; having chosen our bass from one of the nearby stalls.
Bass on the slab in the fish market..
Lilian and Ana dole out the bass for lunch.
Of course we were both eager to catch some fish, but I suppose the main objective of the trips was to try and explore the available fishing with a view to aiding Richard's attempts in the future. It wasn't long before it became obvious that the bass fishing had quietened down a lot in recent weeks and, although we saw quite a few anglers during my two week stay, no one was catching much (hardly anything). For the last week in October the sea was typically pretty rough, but mostly fishable. We started our campaign by visiting the spots at which Rich had already succeeded or had been told - 'were worth a go'. There was a variety of 'bassy looking' places, but typically the shoreline was one of rounded rocks with dense coverings of barnacles and/or mussels. Generally the stretches of sand between the rocks were only a few tens of metres long. The entire coast was very exposed to the Atlantic swells so there was almost always a good surf. Richard normally wore his chesties but, to save weight, I had only taken my wellies and overtrousers so I had to stand back a bit to avoid too many soakings. Our sessions were normally restricted to an hour or so in the morning before the girls went to school and Richard and Ana had to commence work. We also managed a few evenings and a couple of short, weekend-afternoon sessions. For several days there was an enormous swell, so it was too dangerous to fish, and because of this, even the large breakwaters at the mouth of the Douro River were closed to fishing. Hitting on a suitable combination of tides, weather and sea conditions proved to be far from easy.
'Richard's Corner' on the local Lavra beach.
'Light House Beach' - mostly rocks made grippy with barnacles and mussels - Rich is spinning in the distance.
There are a number of big stone breakwaters extending out to sea and built to protect launching spots for small fishing boats. These 'jetties' were favourite places for local anglers. Given suitable conditions, there were often number of people bottom fishing or float fishing, with small baits, from these structures. One of the largest stone piers guarded the mouth of the River Douro. The area is known as 'Foz'. We fished the Foz on a couple of occasions during my visit. Richard told me that the estuary is often full of large mullet, but the conditions were clearly unsuitable for us to see them when we went. However, the Foz breakwater was one of the few places where it was easy to observe local anglers fishing. On our first visit there was a bloke float fishing with maggot (just like my 'dace tackle') for sardines. A quick conversation revealed that bass were a possibility so Richard and I tried spinning from the boulders protecting the stone structure. The water was several metres deep (mid-tide) and I used a weighted EvoStix lure while Richard stuck to his favourite Black Minnow. We both allowed our lures to sink after casting out and retrieved near the bottom until they had to be lifted back up the wall. After a while I lost my lure on a snag but my son had two school bass in quick succession - both took close under the boulder wall. The other angler (probably as old as me) came along to see the action just as Richard hooked his third, and largest, bass; he was delighted when my son gave him the fish. Clearly three bass in half an hour's fishing is not the norm from that spot.
The friendly Portuguese angler float fishing with maggots (not very successfully). Note the jetty on the opposite side of the river.
Richard into a bass.
....and he has it; firmly hooked on the B.M.
Rich prepares to hand over his catch to the other angler.
On our second early morning trip to the Foz, the tide was a lot lower and there was a threat of wind and heavy rain. Richard soon discovered that the boulders lower down were much slippier than the higher rocks, when he fell and clattered his hip and elbow. Slightly chastened by the experience he fished on but we packed in when he lost his lure on a sea-bed snag and the rain began in earnest. This time we blanked. Clearly it was much less easy to fish from the boulders at low water. Some of the locals fished with poles and light float gear for sardines - presumably to eat. It looked as though it might take a while to get enough for a sandwich.
Three local anglers 'pole-fishing' for sardines in the Foz..
The handiest place for us to fish was the small beach at Lavra. At one end was a stone jetty, popular with local anglers, this pier sheltered a beach launching area for small fishing boats. The beach itself was clean sand but there were also good, fishable, rocky sections at either end. A small river crossed the sand and in the absence of heavy rain it was easily wadable at about ankle depth; the slightly deeper sections of the river were heaving with thinlipped mullet in a range of sizes.
On several occasions we tried short sessions spinning for bass from the rocks and the sand. At times it was too rough for easy angling but I managed one reasonable fish after switching to a wedge to allow casting into a strong onshore wind. Richard lost a couple of fish including one which would have been easily our best of the trip: unusually this fish came unstuck from his pseudo-black minnow, after quite a long struggle.
Rich spinning from Lavra beach in roughish conditions (at times it can be much worse).
My wedged bass - a fine fat fish.
The Same fish with the wedge still in its mouth.
In fact every stretch of freshwater entering the sea was loaded with mullet - probably thinlips. The River Douro itself held big fish and most marinas were packed with them (there's no fishing allowed in marinas). I had a couple of tries to catch livebait for bassing from the estuary of the little River Onda. On the first occasion, using fly gear and floating, white flies, I managed three small fish (all returned) and on the last day of my holiday I tried floating bread and caught a couple more. I kept one of them and used it from the beach as bait on a circle hook, without success. The mullet was released alive and well when I packed in.
Watching the mullet from the bridge over the little River Onda.
Thinlips of 1.0-1.5kg in a typical marina situation.
A small thinlip caught on a dry 'maggot fly' given to me by my pal Alan Bulmer who lives in New Zealand.
Richard displays the small, lip-hooked mullet that I tried as a bass bait.
– PLEASE TELL YOUR TWITTER, FACEBOOK, EMAIL FRIENDS ABOUT THESE BOOKS.
HOOKED ON BASS
Written with Alan Vaughan. NEW PRINT OF THE ORIGINAL: IN PAPERBACK. Copies available from all good book shops RRP £14:99 - "Waterstones"
ANGLING ON THE EDGE

Copies can now be ordered (printed on demand) from Steve Pitts at £34.00, inc. Royal Mail Insured UK Mainland Postage.
To order a book send an E-MAIL to - stevejpitts@gmail.com
FISHING FOR GHOSTS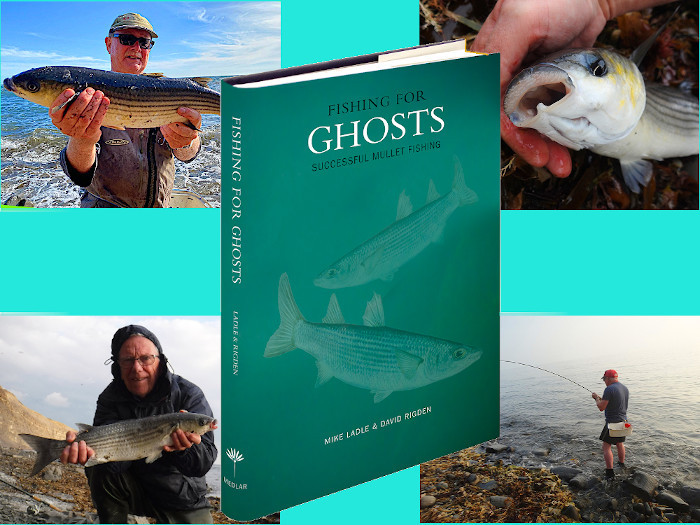 Written with David Rigden. Copies from "The Medlar Press"
THE SECOND WAVE
Written with Steve Pitts this is a SEQUEL TO THE BESTSELLER "Operation Sea Angler" IT'S AVAILABLE ON PAPER FROM -

"Veals Mail Order"
AND ON PAPER OR FOR YOUR KINDLE FROM
"Amazon"

If you have any comments or questions about fish, methods, tactics or 'what have you!' get in touch with me by sending an E-MAIL to - docladle@hotmail.com