Catch Fish with
Mike Ladle
"HOME."
Information Page
SEA FISHING
For anyone unfamiliar with the site always check the FRESHWATER, SALTWATER and TACK-TICS pages. The Saltwater page now extends back as a record of over several years of (mostly) sea fishing and may be a useful guide as to when to fish. The Freshwater stuff is also up to date now. I keep adding to both. These pages are effectively my diary and the latest will usually be about fishing in the previous day or two. As you see I also add the odd piece from my friends and correspondents if I've not been doing much. The Tactics pages which are chiefly 'how I do it' plus a bit of science are also updated regularly and (I think) worth a read (the earlier ones are mostly tackle and 'how to do it' stuff).
December bass on lures.
In years gone by (I can remember quite a few) we would have given up bass fishing by about the middle of November. However, my pal Bill, a good deal younger and considerably hardier than me, generally tries to fish throughout the year. It is not unusual for Bill (and one or two of my other pals) to catch bass in every one of the twelve months. Certainly, December is no longer off the bassing calender.
In the past week or two A couple of my mates have had some success while spinning from Purbeck rock marks. The fact is that I'm now feeling fully recovered from my torn calf muscle and after a few tentative (and unsuccessful) ventures to the coast to dangle baits in the past couple of months I am game for an hour or two of careful rock-hopping. Over the past two weekends Bill and another pal Mike, have reported the presence of both bass and mullet at local shore marks so, with the weather and timing of the tide looking good I decided to give it a go.
I was at the coast by 06:00hr, still in the dark of course, and when I'd trudged to my intended spot I could see my pal Mike already spinning from a bit further along. I clipped on one of my Slandra lures, unweighted apart from the Texposer hook, and began to spin. For twenty minutes nothing happened, then I saw another headlamp approaching, it was Bill. He quickly passed the time of day (we hadn't met face to face for weeks if not months), walked back twenty metres and began to spin a weighted soft plastic. A few more minutes passed with no sign of anything, so I stopped for a short rest of the casting arm and commented to Bill that the fish often start to bite when I can see the lure splashing down after a decent cast. There was already the first hint of dawn in the east so I went to the bag and, since the sea appeared to be weedless, switched lures to an 18cm, Pearl Evo Redgill.
I returned to my stance and began to fish again. What was that? Had I felt a tap as I began the retrieve? Now every angler will know the doubt of a possible bite. It was the first time I'd felt any sort of resistance so I was fairly confident that something had 'had a go'. I had a couple more casts and I was in. The fish fought like stink and I was surprised to find it was only a three pounder when it slid ashore.
Over the following twenty minutes I landed three more two of 3+ and one smaller one. The all fought like demons. I also missed two or three tentative plucks and dropped one decent fish. It was now time for me to pack in, so I left Bill and Mike fishing and made my way back. Must go again soon.
My first bass.
No 1 nicely hooked in the scissors on the Redgill.
No 2.
Nor 2 hooked in the top jaw by the upward facing hook.
No 3.
...again hooked upwards.
– PLEASE TELL YOUR TWITTER, FACEBOOK, EMAIL FRIENDS ABOUT THESE BOOKS.
HOOKED ON BASS
Written with Alan Vaughan. NEW PRINT OF THE ORIGINAL: IN PAPERBACK. Copies available from all good book shops RRP £14:99 - "Waterstones"
ANGLING ON THE EDGE

Copies can now be ordered (printed on demand) from Steve Pitts at £34.00, inc. Royal Mail Insured UK Mainland Postage.
To order a book send an E-MAIL to - stevejpitts@gmail.com
FISHING FOR GHOSTS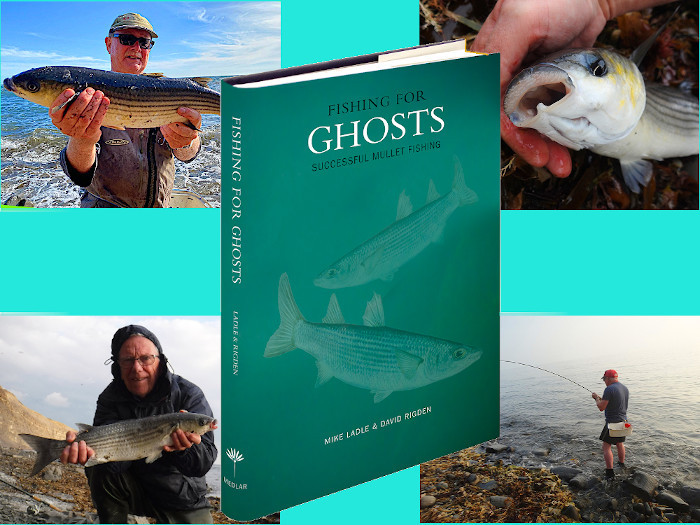 Written with David Rigden. Copies from "The Medlar Press"
THE SECOND WAVE
Written with Steve Pitts this is a SEQUEL TO THE BESTSELLER "Operation Sea Angler" IT'S AVAILABLE ON PAPER FROM -

"Veals Mail Order"
AND ON PAPER OR FOR YOUR KINDLE FROM
"Amazon"

If you have any comments or questions about fish, methods, tactics or 'what have you!' get in touch with me by sending an E-MAIL to - docladle@hotmail.com