Catch Fish with
Mike Ladle
"HOME."
Information Page
SEA FISHING
For anyone unfamiliar with the site always check the FRESHWATER, SALTWATER and TACK-TICS pages. The Saltwater page now extends back as a record of over several years of (mostly) sea fishing and may be a useful guide as to when to fish. The Freshwater stuff is also up to date now. I keep adding to both. These pages are effectively my diary and the latest will usually be about fishing in the previous day or two. As you see I also add the odd piece from my friends and correspondents if I've not been doing much. The Tactics pages which are chiefly 'how I do it' plus a bit of science are also updated regularly and (I think) worth a read (the earlier ones are mostly tackle and 'how to do it' stuff).
Christmas 2021.
Family
A very strange year, all is well here, Lilian and I are both triple jabbed and continue to follow the ever-changing guidelines as best we can.
I still go fishing and continue with the angling website. Lil has almost completed the Roman Villa book (probably two volumes); it will be ready for the publisher next year. However, she says that she's determined not to take on any more big projects (we'll see---).
We have been in contact with all relatives in the south of England this year. The great-grandsons (James and Megan's wonderful twins) visited us – wow was that exhausting!
Richard and Ana and their family are back in Brazil over Christmas. They have settled into their new life in northern Portugal where we visited them for a couple of weeks at the end of October. They live in a quiet village about 30 minutes' drive from Porto, but only ten minutes from the airport. Richard and I fished a fair amount but it was a quiet spell and we didn't catch much.
Dan, Dee and their family, living in Perth, have not suffered any Covid restrictions because Western Australia has been 'shut down' to the rest of the world. We hold-out a slight hope that we might be able to visit them at the back end of next year.
Our other sons Marc and Paul live within an hour or so's drive from us. So, we see them several times a year (Covid permitting).
Fishing
My first attempt to catch a fish was in early January. What with Christmas, Covid and the weather my fishing had been on hold for some time. However, with the total lock-down imminent and who knew what restrictions were likely to be imposed, I decided to have a dabble. I opted to spin a big spoon for pike. To cut a long story short I managed one pike of about 5kg, not bad for fifteen minutes of action. When I got home there was an email from Bill to say that, due to Covid restrictions, we couldn't go fishing until further notice. Just as well I went
My spoon, probably unused for five years or more before this trip.
It was May before I fished again. But in the second week of April My pal Bill had a bass of 2lb on the 'old faithful' Sluggill and was delighted (I would have been). In late April and early May Bill followed up his success with a couple of good sessions in which he caught several much bigger bass. Needless to say I missed out on those trips. To fill the gap in my fishing I uploaded (on the Saltwater pages) the main body of the book 'Lure Fishing' which I wrote with my pal Harry about thirty-five years ago.
After the middle of May I was able to spin for seatrout in the rivers, but conditions were far from perfect. For a couple of weeks it rained every other day, and though levels did not rise too much the water never really cleared at all. It was the end of the month before things improved.
Eventually I arrived on the river bank to find that the plug was visible perhaps 40cm down – a great improvement. I decided to start at the top end of the stretch and work my way downstream, fishing down and across as I went. After many fruitless casts, suddenly I was in. After a long battle I landed a beautiful salmon and took its picture before sliding it back. Not the anticipated seatrout but very exciting.
Both of us ready to return.
Not content with suffering from the Covid restrictions, in June I had a gardening related accident. In short I almost wrenched my right arm (the good one that I use for casting etc.) out of its socket. It was now a matter of trying to nurse my arm back to full use.
Sadly, there was a series of good spring-tides during my lay off and, frustratingly, I knew that the local beaches were piled with weed after recent storms; so it seemed likely that there would be lots of Coelopa maggots, and consequently lots of surface feeding mullet and possibly also bass along some local beaches. My pals, unrestricted by horticultural injuries, had a couple of evenings at the coast and the results (from my point of view) could have been worse, but I wasn't a happy man
Now it was the middle of June and had been wall to wall sunshine and pretty hot with it. Still continuing to rest my aching arm, I limited myself to a spot of 'gentle' spinning. My first session, trying to catch thin-lipped mullet on a baited spinner, was on a stretch of river that I'd never fished before and lasted only about 40 minutes.
Since I could only manage half-a-dozen casts without resting my arm, the fishing was a bit limited, but the potential seemed excellent. Eventually I caught one and managed to land it from the steep bank without risking a head-first plunge to join the mullet. After taking a couple of pictures and returning the fish, I went home. A few days later my pal Steve Pitts and I had a couple more and lost one very big fish using the same tactics.
Not a bad fish.
Although I waved a rod about a few times in the following month, I was still wary of 'hard spinning sessions'. However, my pal Bill, as always, continued to catch a few bass. I managed a couple of abortive attempts to lure a seatrout (usually a 'banker' when other fish are scarce). After a couple of blanks the river looked to be in decent condition and caught two modest specimens. It was probably just as well for my injured shoulder that there were no monsters interested in the lure.
A plump but stale seatrout with lots of spots - hooked on my first cast.
Another nicely conditioned one, just a bit bigger.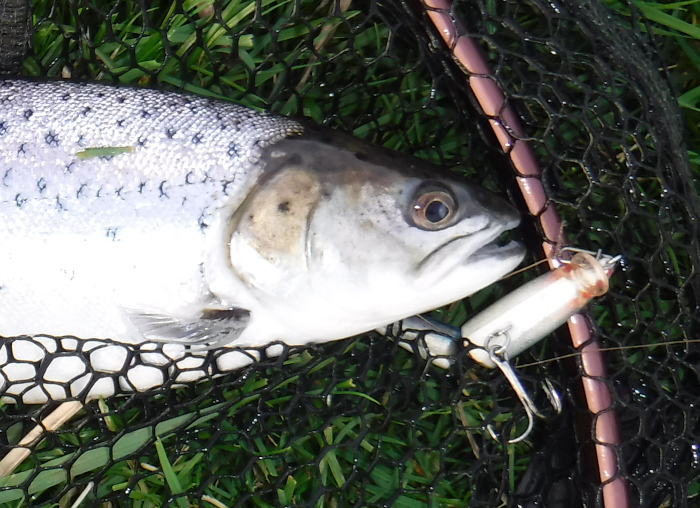 Although pike used to be very common (and often large) in my local river, they have recently been a bit thin on the ground; but they are still there as I found in mid-July. I landed one of about 5kg (11lb), and after removing the hooks I took a couple more pictures before returning it to the river. Although it was only a modest fish it was by far the best pike battle that I've had for years.
The pike still in the net.
Also in mid-July I had a couple of bass spinning trips, and actually managed to catch fish on lures.
My first bass of the second session - nicely hooked..
Of course the good fortune couldn't last and at the end of the month disaster struck again. On a trip, with my pals, in search of bass and mullet along the Purbeck coast; I slipped and tore a muscle in my left calf. I decided to hobble on and see how it went with my painful leg (not a very sensible thing to do in retrospect).
On the credit side the fish arrived soon after we did so we spread out along the shore to see what we could catch. We were entertained by a large seal which swam along and viewed each of us in turn. In total we managed 35 bass and four mullet. No monsters but not too bad.
Bill took this picture of me playing a 'fly'-caught bass hooked on a tiny Delta eel.
I brought the fish to hand and unhooked it where I stood.
Now it was well into August. The injured calf muscle was on-the-mend after two weeks of ice packs and physio. I decided to 'test' my leg with a gentle stroll along the riverbank. I used the simple, 7cm, jointed Rapala and slowly worked my way downstream (I was under orders to be back in an hour or so). I missed several bites and landed one seatrout.
My first seatrout.
The following morning we had lots of rain but that evening I decided to fish a different stretch (again I had been limited to an hour or so). This time I tried a 9cm Rapala. I caught another small seatrout and had a couple more bites – one from a big fish.
Another one the next evening - pity it wasn't bigger.
After a couple of days rest I tried again, in the company of my pal Martyn. At first there was nothing much doing and It was getting quite dark. In desperation I decided to try a deeper slower stretch. Second cast there was a wrench on the rod and a frantic splashing - so I was thinking 'seatrout at last!' Although it did some serious splashing and crashing in the first few seconds, I was beginning to doubt that it was a seatrout. Sure-enough it was a salmon which we quickly landed and returned. Not the desired seatrout but a nice fish nonetheless.
Picture taken by Martyn.
The next morning, I got up early to see whether I still knew how to catch bass. By 04:30 I was walking along the rocks and wading to the ledge that I intended to fish. There was nothing doing and the tide had fallen so I decided to make my last few casts at a longer range using a Yo Zuri slider and landed a small bass. My convalescent leg survived the ordeal and at least I didn't blank.
My titchy bass.
I was still reluctant to tramp along the seashore with my swollen leg, so I continued into September fishing the rivers, with varying degrees of success. Baiting with minnows for perch was the most entertaining activity, and I had several sessions. I also had a few seatrout on the little plugs.
The first and largest perch of one session. It took almost at once.
An average seatrout. It's already quite dark.
It was not until the 20th of September that I plucked up courage to hike over the rocks, where I'd torn my calf muscle. Bill picked me up at about 16:00hr and we drove down to the coast. For ages we had nothing. It was almost high water when we got to the limits of our walk, there was a bit more weed on the beach and so we began to fish again. It wasn't long before we noticed lots of tiny surface rings made by surface feeding sand-smelts, and there were even one or two thicklips skimming the surface for Coleopa maggots. I put down the spinning rod and picked up my fly rod armed with a tiny, 6cm, white Delta eel, just in case there might be a small bass or a stupid, fry-feeding mullet present but still no bites.
I made my final change, replacing the Delta with a small white and tinsel streamer fly. For five minutes nothing then, suddenly, I was in! The fish fought like stink and Bill switched on his phone and took a few pictures, before I was able to slide it ashore to have it's picture taken.
I'm in! Bill took the pictures on his phone.
Still battling as only mullet can.
Nice for me to get something from the sea at last.
By the end of September I was still concentrating on the river fishing. Mostly I fished in the evening for short (an hour-and-a-half) sessions. I caught a few reasonable fish and lost several more.
A trout taken on a larger lure.
Daytime fishing also produced a few small chub on a 7cm Rapala and I finished up with one on a Mepps - after a pleasant afternoon.
The first chub.
After the chub I decided to have an hour after seatrout as darkness fell. I was just about to pack in when the lure was taken, almost as it hit the water, in a fast, shallow run. It was a nice seatrout which I slid ashore, took a picture and returned to the river before walking back to the car.
The final seatrout from fast-flowing, shallow water.
In mid-October, according to reports from my pals, it seemed, that there had been a sprat/bass/mackerel bonanza. I heard reliable tales of ten or twenty bass caught on lures in an hour or two's spinning. I missed out on the action.
At that time of the year, as the days quickly shorten, the chances of hitting that special combination of access, tide, weather, change of light and maggot-ridden weed-middens, which is ideal for catching bass and/or mullet on lures and flies, quickly diminishes. Waves of perhaps half-a-metre in height were breaking on the rocks as my pals and I arrived at our selected spot. Bill and Nigel opted to try spinning from the weed banks while they waited for the anticipated arrival of the fish and I made my way further along the shore, casting and retrieving an 11cm, floating, jointed Rapala.
Eventually, tempted by the weed we'd chucked in, the mullet arrived in force, but they wouldn't take our flies. We were all a bit frustrated. Bill wandered off to spin where I'd had one or two tentative bass bites. Ultimately I landed one thicklip and lost a bigger one after playing it for ages. Bill had only managed a couple of bites on his softbaits. Nigel had lost two mullet on the fly and landed a tiny bass, while spinning a little paddle tailed soft plastic. All in all not a very productive trip but fantastic to be fishing again.
Bill's annual picture of the three of us - raring to go.
Nigel's into a mullet on the fly.
The mullet I landed on the fly - not a bad fish.
In late November I went plugging for chub again. No joy but one reasonable – out of season - trout.
A colourful trout - in mint condition.
I also made a second trip, in search of pike. As usual this year I could catch no baits, so I armed the pike trace with one of my hybrid 'Slandra' lures. These gadgets really do look like some sort of eel when they are in the water and, since they are as near weedless as it is possible to get, they can be fished in almost any conditions. About twenty minutes after starting I hooked decent fish, which managed to drape the line with lots of weed. Nigel, came down the far bank to take a couple of pictures.
The successful lure.
With my pal Steve, I fished for pike again on the first of December – we blanked. The following evening it was much milder so I decided to have another go the next day. This time I used a large frozen pilchard on a 4/0 circle hook. After a spirited struggle I landed a fish in the middle-teens of pounds.
My shot of the fish, unhooked but still in the net.
Two more sessions worth reporting from December. There was another spell of milder (for December) weather which tempted me out of the house for a session after pike. Again I tried to catch a bait or two and failed, so the circle hook was baited with a large, lip-hooked sardine supposed to be for bass. I simply left the float, a couple of wine-bottle corks, on the line and tried to give the bait a semblance of life by twitching the line every few seconds.
After missing a fish twice within minutes, the third time it took it was well hooked and landed. A nice fish in the middle-teens of pounds. After catching the pike I switched banks and immediately hooked and netted one a few pounds less. Two pike and no more baits. I suppose I could have continued with a lure but I was happy with my catch so I packed in and went home to do some gardening.
The 'Houdini' pike on the bank with the float (corks) still on the line..
My second pike, a double but only just.
My latest sortie was on the 19th of December. Recently, a couple of my mates had some success while spinning for bass from Purbeck rock marks. Now, feeling fully recovered from my injured leg, I was game for an hour or two of careful rock-hopping. I reached the coast by 06:00hr, still in the dark of course. I clipped on one of my Slandra lures, unweighted apart from the Texposer hook, and spun for twenty minutes. Soon there was the first hint of dawn in the east, so I delved into the bag and, since the sea appeared to be weedless, switched lures to an 18cm, Pearl Evo Redgill. The next twenty minutes were hectic and produced four bass between 2lb and 3.5lb. Merry Christmas Mike!
Bass number 1.
2.
3.
ALL THE BEST TO EVERYONE FOR 2022
– PLEASE TELL YOUR TWITTER, FACEBOOK, EMAIL FRIENDS ABOUT THESE BOOKS.
HOOKED ON BASS
Written with Alan Vaughan. NEW PRINT OF THE ORIGINAL: IN PAPERBACK. Copies available from all good book shops RRP £14:99 - "Waterstones"
ANGLING ON THE EDGE

Copies can now be ordered (printed on demand) from Steve Pitts at £34.00, inc. Royal Mail Insured UK Mainland Postage.
To order a book send an E-MAIL to - stevejpitts@gmail.com
FISHING FOR GHOSTS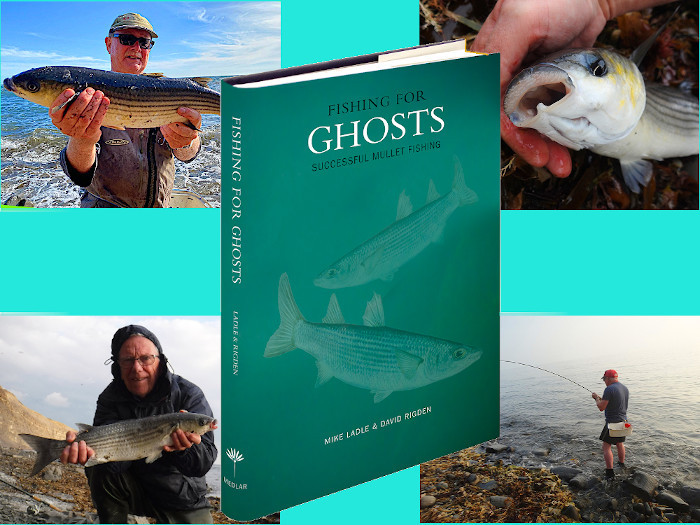 Written with David Rigden. Copies from "The Medlar Press"
THE SECOND WAVE
Written with Steve Pitts this is a SEQUEL TO THE BESTSELLER "Operation Sea Angler" IT'S AVAILABLE ON PAPER FROM -

"Veals Mail Order"
AND ON PAPER OR FOR YOUR KINDLE FROM
"Amazon"

If you have any comments or questions about fish, methods, tactics or 'what have you!' get in touch with me by sending an E-MAIL to - docladle@hotmail.com