Catch Fish with
Mike Ladle
"HOME."
Information Page
SEA FISHING
For anyone unfamiliar with the site always check the FRESHWATER, SALTWATER and TACK-TICS pages. The Saltwater page now extends back as a record of over several years of (mostly) sea fishing and may be a useful guide as to when to fish. The Freshwater stuff is also up to date now. I keep adding to both. These pages are effectively my diary and the latest will usually be about fishing in the previous day or two. As you see I also add the odd piece from my friends and correspondents if I've not been doing much. The Tactics pages which are chiefly 'how I do it' plus a bit of science are also updated regularly and (I think) worth a read (the earlier ones are mostly tackle and 'how to do it' stuff).
A good way to end the year.
My good pal Bill rang me up, just after Christmas, to ask if I fancied going to the coast for a couple of hours. Now after the (slightly restricted) festivities this was just what I needed. So I said "Yes please!" We drove down to the coast and arrived on the beach a little before mid-day. There was a stiff SW wind blowing and plenty of white tops on the waves but it certainly looked fishable.
The tide was well in as we trudged along the remaining, narrow strip of shoreline, close under the cliffs, stumbling and slithering over cobbles and mounds of seaweed. I was pleased to find that my convalescing leg stood up to the conditions as well as I could hope. It was very mild for the time of year, the morning rain was already easing off and it was promising to give way to better conditions - even some sunshine if we were lucky.
By the time that we began to cast It was about twelve o'clock. Bill was a few metres to my left using a nose weighted, white, Slug-Gill and, as I began my first retrieve, I heard him call out and looked round to see that his rod was bent into a fish. What a start. Could we be in for a bonanza? I put down the rod and grabbed the camera from my bag to take a couple of pictures, but by the time I was in action my pal was already sliding his catch ashore. Fantastic!
Bill with his catch at his feet, note the grey, roughish, bassy water.
After we'd each taken a couple of pictures and returned the bass to the sea, it was back to fishing. Before long we realised that the 'first-cast-fish' had been a 'flash in the pan' as we had no more bites for the next hour. A bit disappointing. As we'd arrived we noticed three other anglers already spinning from a ledge some distance further along the coast. We knew that, late in the year, the ledge sometimes produced good fish in rough conditions, so we decided to make our way along and see whether we had been missing anything. Apparently we hadn't, as the other blokes had been biteless since they arrived about three hours earlier. They were just stopping for a snack so we were able to have a chat and try a few (biteless) casts before we made our way back to the place where Bill had caught his bass.
A fellow angler hard at it, but fishless, in the heavy surf.
We took up our previous positions and began to fish again. Bill still had on the successful lure and since conditions were more or less weedless, I stuck to an 18cm, Pearl, Evo-Redgill. On my first cast I felt a slight double tap which I was pretty sure was a fish and I called to Bill that " I thought I'd had a bite." Encouraged, I flicked the lure out to the same spot and on the second or third turn of the handle I was in. The fish fought very hard as they often seem to do at this time of the year. It took me a little while to get the bass under control, so Bill had time to extract his phone and take a couple of pictures.
The fish battling hard and the rod well bent, as always a good picture from Bill.
Do I look pleased?
Not such a good shot. I should have turned the flash off to get a better picture, but it clearly shows the lure.
We fished on for a few minutes but we were both well satisfied with our catches and to top it off the sun came out as we made our way back to the car.
ONCE AGAIN - ALL THE BEST TO EVERYONE FOR 2022
– PLEASE TELL YOUR TWITTER, FACEBOOK, EMAIL FRIENDS ABOUT THESE BOOKS.
HOOKED ON BASS
Written with Alan Vaughan. NEW PRINT OF THE ORIGINAL: IN PAPERBACK. Copies available from all good book shops RRP £14:99 - "Waterstones"
ANGLING ON THE EDGE

Copies can now be ordered (printed on demand) from Steve Pitts at £34.00, inc. Royal Mail Insured UK Mainland Postage.
To order a book send an E-MAIL to - stevejpitts@gmail.com
FISHING FOR GHOSTS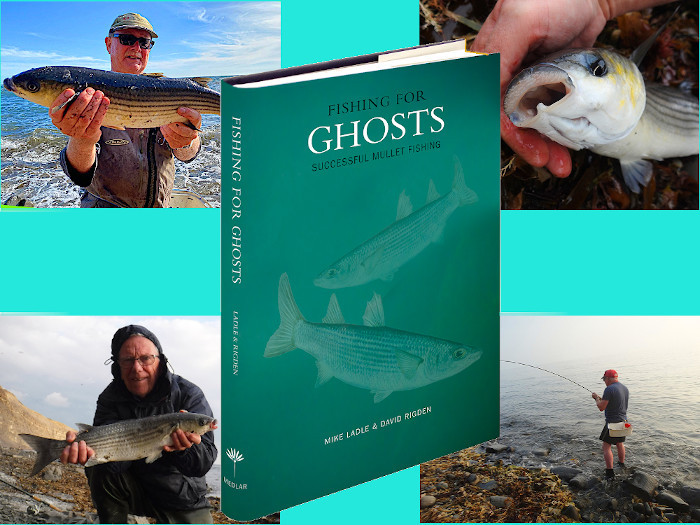 Written with David Rigden. Copies from "The Medlar Press"
THE SECOND WAVE
Written with Steve Pitts this is a SEQUEL TO THE BESTSELLER "Operation Sea Angler" IT'S AVAILABLE ON PAPER FROM -

"Veals Mail Order"
AND ON PAPER OR FOR YOUR KINDLE FROM
"Amazon"

If you have any comments or questions about fish, methods, tactics or 'what have you!' get in touch with me by sending an E-MAIL to - docladle@hotmail.com