Catch Fish with
Mike Ladle
"HOME."
Information Page
SEA FISHING
For anyone unfamiliar with the site always check the FRESHWATER, SALTWATER and TACK-TICS pages. The Saltwater page now extends back as a record of over several years of (mostly) sea fishing and may be a useful guide as to when to fish. The Freshwater stuff is also up to date now. I keep adding to both. These pages are effectively my diary and the latest will usually be about fishing in the previous day or two. As you see I also add the odd piece from my friends and correspondents if I've not been doing much. The Tactics pages which are chiefly 'how I do it' plus a bit of science are also updated regularly and (I think) worth a read (the earlier ones are mostly tackle and 'how to do it' stuff).
Almost a February bass.
Over the years I have often read (and sometimes written) that the bass season - at least here in Dorset - runs from about April to November. Of course, this is still more or less the case. Certainly, for less experienced anglers it is a good idea to stick to this 'season' to avoid being discouraged by strings of blank trips. However, my good pal Bill Fagg, who has fished with me for years, has thrown a different light on things. Bill is a keen, innovative, lure angler and likes to set himself a number of objectives, one of these being to catch a bass in every month of the year. Surprisingly, he often achieves his aim. I have another pal, Mike Jelley, who normally fishes at least once a week: Mike also lure fishes in every month of the year, generally starting in the early morning (03:00hr) even in the depths of winter.
In years gone by I've tended to 'play the percentage game', so that when I thought things were likely to be slow on the saltwater scene I would go to the river and fish for dace, grayling, roach, or pike which are rather more reliable than bass and mullet. However, the truth is that unless you go fishing you will never know whether there is anything to be caught. So, encouraged by the efforts of my pals, I've been paying more attention to winter bassing. I have to say that even Bill admits that February can be a bit grim along the Dorset coast, but there is a good deal of satisfaction to be had from catching a fish when the chances are slim. In the recent December our bassing was pretty good and we all caught a number of fish - nothing monstrous, but a few in the three to four pound bracket. and most of them in mint condition.
On New Year's Day I had an email from Bill, to say that he'd been out for his first bass fishing trip of the year. He'd fished for about two hours from just before 07:00 using one of his favourite lures - a white Sluggill and - he had caught a couple of fish (3lb and 4.75lb). On the day in question it was a big spring tide, the sea temperature was 10.2 degrees C, there was virtually no wind but a big swell was pushing 2m waves onto the shore. Bill said that with the recent high winds & big seas he'd waited until the tide had started to drop significantly before risking a shoreline sortie, but he described the conditions as "gorgeous!" with rough but fairly clear water. For the first hour he had nothing, then, at 09:00hr, he had a bite, and a fish was on for 2 seconds before detaching itself. He said "My heart sank, I thought what a crap start to the year; but 22 minutes later I had hell of a bite and a screaming reel." He was quite surprised, given the struggle it put up, that the fish wasn't huge, but at 58cm it was still a good one. By the time his watch said that it was 09:45 he was thinking about packing up but as he was about to leave he had another nice bass of 52cm which hardly fought at all. By now the tide was nearly all the way out and he almost lost a lure in a snag so, taking the hint, he headed home.What a way to start the year.
Bill's larger, harder fighting bass
... and his second, later fish.
Since that first 2022 trip Bill, Mike and I have each had a few blanks, with only the odd tentative pluck to keep us going. The weather has not always been kind with quite a lot of rough, dirty, weedy water, although both bass and (surprisingly) mullet have at times been in evidence in some places. This week I drove down to the coast at 06:00hr for an hour or so spinning. As I arrived at the car park Bill, obviously of the same mind, pulled in beside me and we could see that Mike's van was already there. Clearly he'd made his customary early start, in the hours of darkness.
I'd clipped on a Pearl Evo Redgill and Bill was trying a white Sluggill. We hiked along to where Mike was already fishing and he told us that he'd caught a four-pounder on his second cast, not much after 03:00hr - since then zilch. It was calm and, although it was too dark to see it, the water was clear. By 06:40 we were all fishing, spaced out so as to avoid any crossed lines. It was chilly but very pleasant, easy fishing. The tide was ebbing (high water had been at about five o' clock) and the sea temperature was only 9 degrees C. Nothing happened until 07:10 when, almost under my rod tip, the Redgill was grabbed and a fish tore away against a tight clutch. I muttered a few words to the effect that I hoped it wouldn't come unstuck and called to the lads that "I was in!" The bass fought well but it was only a couple of minutes before I managed to slide it onto the shore between a couple of boulders. It was still pretty dark, so I used the flash to take some pictures and Mike took one of me with the fish. We continued fishing for a while but I only had one more tug before I decided to pack in and leave the others to it. As Bill said to me it was "Almost a February bass." Let's hope there are some in the coming month.
My bass - typically in beautiful condition.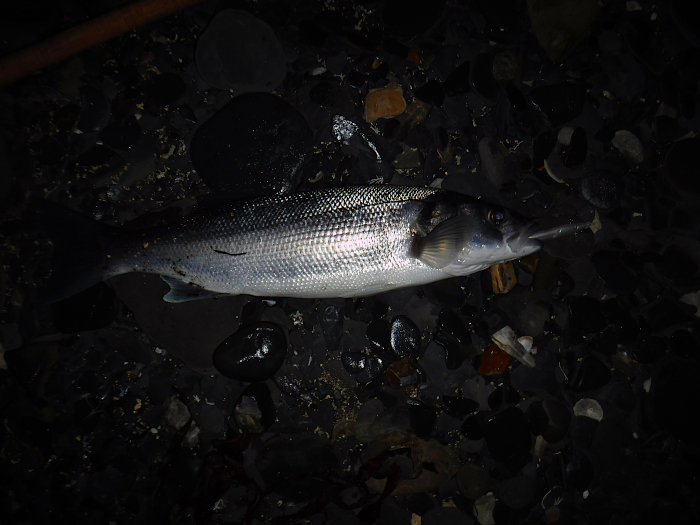 A picture taken by Mike J. - it was darker than it looks.
– PLEASE TELL YOUR TWITTER, FACEBOOK, EMAIL FRIENDS ABOUT THESE BOOKS.
HOOKED ON BASS
Written with Alan Vaughan. NEW PRINT OF THE ORIGINAL: IN PAPERBACK. Copies available from all good book shops RRP £14:99 - "Waterstones"
ANGLING ON THE EDGE

Copies can now be ordered (printed on demand) from Steve Pitts at £34.00, inc. Royal Mail Insured UK Mainland Postage.
To order a book send an E-MAIL to - stevejpitts@gmail.com
FISHING FOR GHOSTS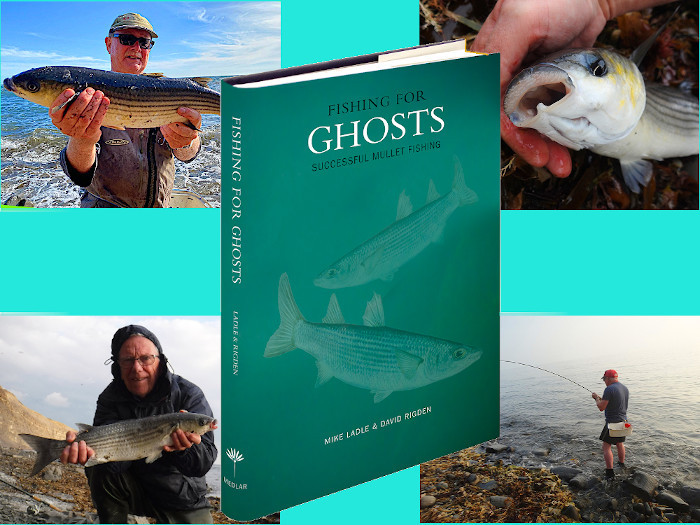 Written with David Rigden. Copies from "The Medlar Press"
THE SECOND WAVE
Written with Steve Pitts this is a SEQUEL TO THE BESTSELLER "Operation Sea Angler" IT'S AVAILABLE ON PAPER FROM -

"Veals Mail Order"
AND ON PAPER OR FOR YOUR KINDLE FROM
"Amazon"

If you have any comments or questions about fish, methods, tactics or 'what have you!' get in touch with me by sending an E-MAIL to - docladle@hotmail.com