Catch Fish with
Mike Ladle
"HOME."
Information Page
SEA FISHING
For anyone unfamiliar with the site always check the FRESHWATER, SALTWATER and TACK-TICS pages. The Saltwater page now extends back as a record of over several years of (mostly) sea fishing and may be a useful guide as to when to fish. The Freshwater stuff is also up to date now. I keep adding to both. These pages are effectively my diary and the latest will usually be about fishing in the previous day or two. As you see I also add the odd piece from my friends and correspondents if I've not been doing much. The Tactics pages which are chiefly 'how I do it' plus a bit of science are also updated regularly and (I think) worth a read (the earlier ones are mostly tackle and 'how to do it' stuff).
Early bass.
A few years ago, if you'd asked me what the season for bass fishing here in Dorset was, my reply would probably have been - "May to November or - if you don't mind a few cold, blank sessions - April to December." Now, I don't know whether it is related to climate change or if we simply didn't try hard enough in the winter months but we now seem to catch fish in very month of the year. In fact, as I've mentioned before, my good pal Bill Fagg has made it a sort of 'badge of honour' to try and catch a bass in every month of the year and, these days, he often manages to do it. This year Bill has already had fish on January 1st, I also had one on the 30th of that month,Bill had a fish on February 13th and another on March 6th. All in all, a flying start. After the bass caught on the 6th we were, for various reasons (other duties, unsuitable weather, restricted access) unable to give it 'a proper go' until this week.
We'd both checked the tide tables and weather forecast before deciding to have a dabble this weekend. It's now getting light by about half-past-five so, in my usual stupid fashion, I opted to get up just after 04:00 hr. By the time I'd dressed, slung the gear in the car, driven to the coast, and hiked along to the beach to a spot that I fancied, it was about 05:00 hr. Just what I'd hoped. It was still pretty dark, although there was a bright moon so, on the less bouldery stretches, I was able to walk without my headlamp (I like to get my eyes accustomed to the gloom before I start to fish if I can). There was a stiff, cool breeze; enough to make me glad that I was togged up to keep out the wind and glad of my fingerless gloves. A decent swell was rolling into 'my chosen spot', so I picked a stance where I wouldn't get a soaking and didn't have to force the lure into the teeth of the wind. The gear was already set up with an 180mm Pearl, Evo-Redgill. Although there was a lot of loose weed in the margins, I was hoping that the big hook of the lure wouldn't be constantly fouled up by it - my first couple of casts showed that it was OK.
When I began to fish it was still pretty dark. I flogged away for half-an-hour or so, more or less biteless. Every few minutes I would retreat shoreward, along the ledge where I stood, to avoid being dislodged by the breaking waves and fast, rising tide. By now I could just about see the lure splashing down after a decent cast, this often being a good 'indicator' of bass coming on the feed. Sure enough, as the thought crossed my mind I was in. I'd left the bag (and the camera) high on a boulder, so I didn't need to worry about the incoming tide. However, this meant that I had to 'guide' my hooked bass back to the gear to have its picture taken. After a couple of snaps I unhooked the fish, which was small, plump and silver, and popped it back into the waves. The camera was now slipped into my jacket pocket, to make things easier if I caught any more, and I returned to my fishing stance.
My first fish, taken without a flash, and digitally brightened to make it visible, shows that it was still pretty dark.
The same bass with the camera flash switched on.
Not the biggest bass ever, but like my later ones it engulfed the lure.
Five minutes of cast and retrieve passed before I found myself playing another modest bass. This time I tried to get one or two pictures of the fish in the water as it came in. After sliding the bass ashore it flapped and neatly unhooked itself so I popped it back. Two bass - excellent! Five or ten more fishless minutes passed before my third bass was hooked, landed and returned. This was followed after suitable periods of casting by two more. Five in all - amazing. After three or four 'last casts' I decided to give them best and return to the car, before I was likely to suffer a tricky return pinned against the cliffs by the equinoctial high tide. In fact I even packed in despite having a definite pull on my actual last cast.
My second bass, in the water as I bring it ashore.
... and another one!
As I walked back to where I'd parked the car I saw a figure approaching along the beach - it was Bill. We stopped for a quick chat and I told him that I'd had five fish. He was encouraged and went on his way to try the white Slug-gill lure from more or less where I'd caught them. later that morning I had an email to say that he'd caught three more bass of similar size to mine. So much for a nearly start to the 'season'.
One of Bill's fish with the Slug-gill in its mouth.
...and another for my pal - what a nice reel.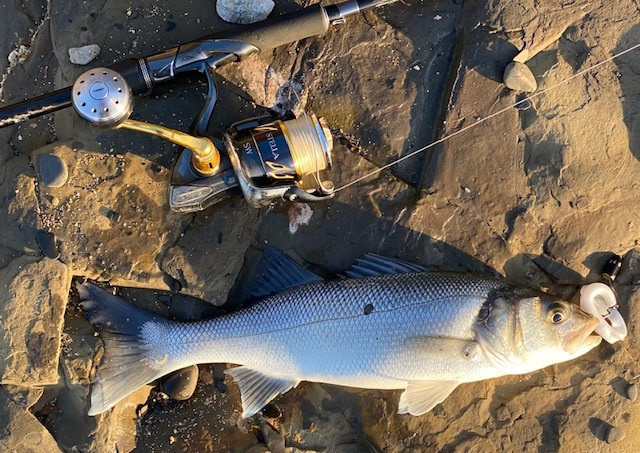 – PLEASE TELL YOUR TWITTER, FACEBOOK, EMAIL FRIENDS ABOUT THESE BOOKS.
HOOKED ON BASS
Written with Alan Vaughan. NEW PRINT OF THE ORIGINAL: IN PAPERBACK. Copies available from all good book shops RRP £14:99 - "Waterstones"
ANGLING ON THE EDGE

Copies can now be ordered (printed on demand) from Steve Pitts at £34.00, inc. Royal Mail Insured UK Mainland Postage.
To order a book send an E-MAIL to - stevejpitts@gmail.com
FISHING FOR GHOSTS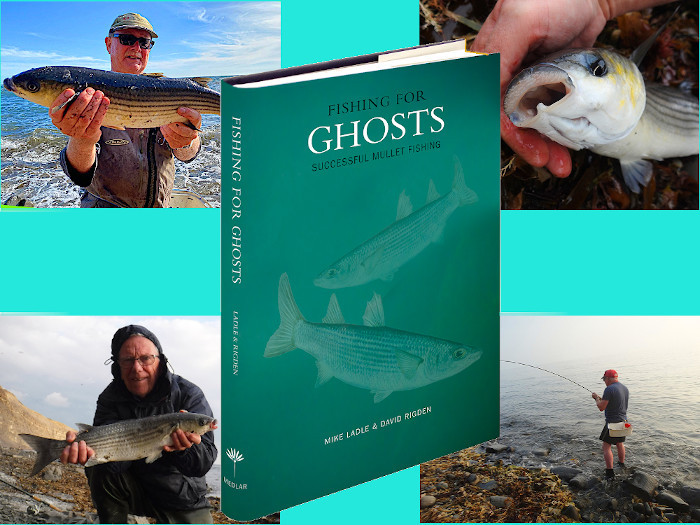 Written with David Rigden. Copies from "The Medlar Press"
THE SECOND WAVE
Written with Steve Pitts this is a SEQUEL TO THE BESTSELLER "Operation Sea Angler" IT'S AVAILABLE ON PAPER FROM -

"Veals Mail Order"
AND ON PAPER OR FOR YOUR KINDLE FROM
"Amazon"

If you have any comments or questions about fish, methods, tactics or 'what have you!' get in touch with me by sending an E-MAIL to - docladle@hotmail.com