Catch Fish with
Mike Ladle
"HOME."
Information Page
SEA FISHING
For anyone unfamiliar with the site always check the FRESHWATER, SALTWATER and TACK-TICS pages. The Saltwater page now extends back as a record of over several years of (mostly) sea fishing and may be a useful guide as to when to fish. The Freshwater stuff is also up to date now. I keep adding to both. These pages are effectively my diary and the latest will usually be about fishing in the previous day or two. As you see I also add the odd piece from my friends and correspondents if I've not been doing much. The Tactics pages which are chiefly 'how I do it' plus a bit of science are also updated regularly and (I think) worth a read (the earlier ones are mostly tackle and 'how to do it' stuff).
The trouble with (bass fishing) in Portugal.
Our third son, Richard, and his family have been living in northern Portugal for well over a year now. Richard is a very keen, all round angler, and he has been fishing for bass since he moved to from Brazil to near Porto. I should say at this point that he already knows a lot about catching bass and has landed more than his fair share of these fish since he caught his first one, on a lure, in Dorset many years ago.
A young Richard with his first, lure-caught bass from the shore.
Now it is often difficult to get to grips with a new stretch of coast line, and although, over the past year, Rich has caught a good number of bass, including a few decent fish, up to about eight pounds, it seems to have been hard work. In view of the long-standing reputation of Portugal as a bass fishing area I found it a little hard hard to understand why the fish were not queing up to take his lures. However, now that I've tried it for myself I can see why it is not all that easy. Anyway, I thought that it might be helpful to give an account of the problems. Richard and his family live in a little village, near the port of Matosinhos, about ten minutes drive from the coast. He has the universal problems of school runs, a new job and sundry household chores to deal with, so he fishes when he can - usually early morning or evening sessions.
I have to say that much of the coastline looks like a bass angler's heaven and should be easy to 'read' for an experienced 'basser'. Lots of small sandy beaches flanked by rocky outcrops, plenty of mussel/barnacle/tube-worm covered rock and some kelp beds close inshore, plus one or two small rivers and streams crossing the beaches. So, what other clues are there to help you decide where and how to fish? (1) Watch the locals! There are quite a few anglers to be seen using lure and/or bait fishing tactics - often they are not catching much (we saw a single, bait-caught, schoolie during my three week stay). (2) Watch the birds! There appear to be virtually no feeding birds (Richard has seen only one small group of terns in almost eighteen months). (3) Look for bait animals! Bait fish shoals and other common bass foods are often conspicuous by their absence. (4) Select your venue according to conditions! This should be easy. However, the big problem appears to be the absence of a link between rough seas and weather. The entire coast is exposed to the full force of the Atlantic rollers, and swells of two to four metres in height are frequent, even when there is little or no wind. Richard tells me that any swell above about 1.5m in height can make it hard to fish. This is not simply a matter of your lure or bait tactics or even danger to life and limb, but the fact that the huge waves are often full of weed. Not only are your hooks and lures clogged with bits of kelp and wrack, but green, clingy, sea lettuce is frequently present, probably due to local enrichment by fertilisers or sewage.
The best (only) way to find bass it seems is to fish for them, so this is what we did. We had a short recce, to the nearest local beach, on my first evening. Conditions were good with only a slight swell and relatively clear water. Richard spun with a plug and I tried a Pearl Evo-Redgill - both of us were biteless.
The following morning we were up at dawn. Conditions were similar to the night before, although in the still air there was a bit of a sea mist (often the case as I later discovered). We each stuck to the tactics that we'd tried the previous evening and after half-an-hour of walking, casting and retrieving we were biteless. Then, as the sun came up, I felt the savage yank of a bass on my 11ft, six piece, spinning rod. By this trime Richard was too far away to be recalled by a shout so I set about playing my fish. The take had come only a few metres out but it soon stripped a fair bit of line against my usual tight clutch. I was not too concerned about the hook-hold as Redgill hooks rarely come unstuck, but as I worked to bass towards the sloping sand I felt the usual pangs of doubt about the possibility of losing the first fish of the trip. There was no need to worry, and within a few minutes a beautiful bass slid ashore. Eureka! I measured my catch - 62cm fork-length and in decent nick - so over six pounds. What a start!
Of course, I couldn't resist showing 'the competition', so I unhooked the fish and set off trudging along the beach to where he was fishing (quite a distance as it turned out). We oohed and aahed about my catch and he said that he'd promised a fish to his neighbour, so we dispatched it and bagged it up. The only one we kept on my trip. Richard said that he'd also had a 'follower' which didn't take. After a few dozen more casts it was time to get back to the family for breakfast.
How about that - I think you can see that I was pleased. I'm holding Richard's plug rod as he takes the picture.
There's no point detailing our subsequent blank sessions (there were quite a few). Occasionally the conditions looked fine but we failed to tempt a fish. More often we were defeated by the heavy seas and weed, even though we rarely turned back without giving it a go. I had our second fish of the trip ( a relative tiddler) on a weedless Evo-Stix lure, to lead two nil in our usual friendly competition.
Another one - two up for me, but it wasn't to last.
In the same session Rich landed a better bass, which he hooked after switching to a white, surface slider following a missed strike at a Redgill on the surface.
This one took a surface slider. Note the sea lettuce on these rocks.
Richard fishing in Typical misty morning conditions.
When it was very rough I suppose we could have joined the other anglers who were fishing the large river estuary from the long piers, but it isn't as pleasant as the open coast.
... fairly rough!
A good swell - fishable but the weed's the problem.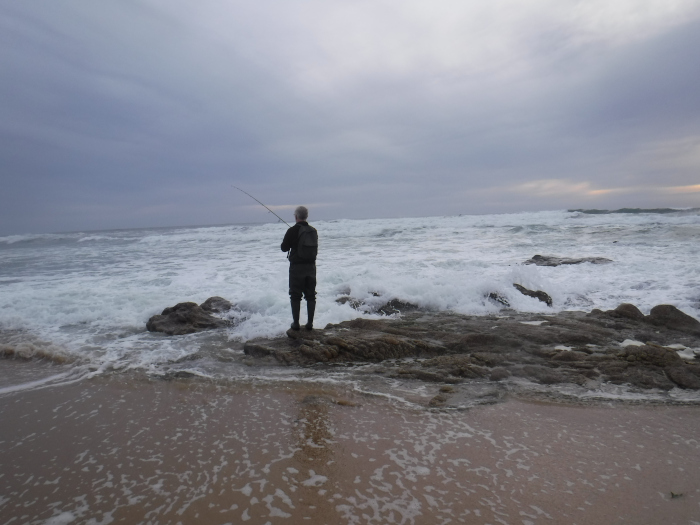 By the end of my holiday Richard had caught three fish and I'd had two. We'd each missed one or two bites. Pretty poor returns for the amount of effort we had to put in. Hopefully things will perk up for him later in the year (they did last summer). Of course we've no idea what the seasonal changes are likely to produce but, as with all fishing, and although bass are always bass, there are just so many factors to take into account before you get to 'know' a place.
Richard's in, despite the rough conditions.
Rich finally takes the prize for most fish, with a small schoolie.
– PLEASE TELL YOUR TWITTER, FACEBOOK, EMAIL FRIENDS ABOUT THESE BOOKS.
HOOKED ON BASS
Written with Alan Vaughan. NEW PRINT OF THE ORIGINAL: IN PAPERBACK. Copies available from all good book shops RRP £14:99 - "Waterstones"
ANGLING ON THE EDGE

Copies can now be ordered (printed on demand) from Steve Pitts at £34.00, inc. Royal Mail Insured UK Mainland Postage.
To order a book send an E-MAIL to - stevejpitts@gmail.com
FISHING FOR GHOSTS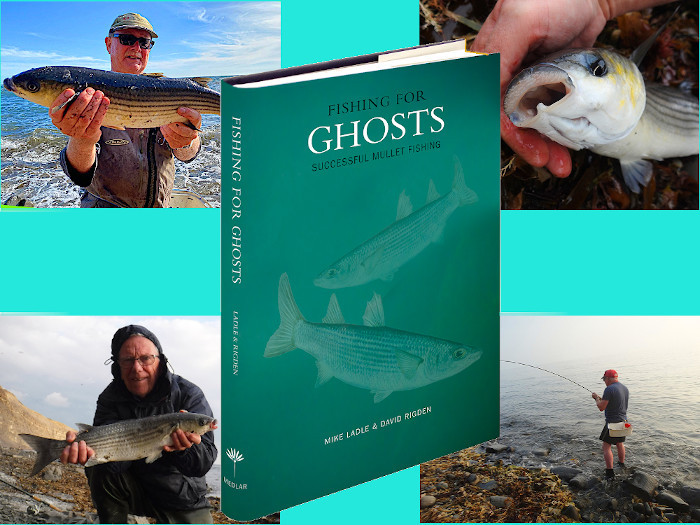 Written with David Rigden. Copies from "The Medlar Press"
THE SECOND WAVE
Written with Steve Pitts this is a SEQUEL TO THE BESTSELLER "Operation Sea Angler" IT'S AVAILABLE ON PAPER FROM -

"Veals Mail Order"
AND ON PAPER OR FOR YOUR KINDLE FROM
"Amazon"

If you have any comments or questions about fish, methods, tactics or 'what have you!' get in touch with me by sending an E-MAIL to - docladle@hotmail.com