Catch Fish with
Mike Ladle
"HOME."
Information Page
SEA FISHING
For anyone unfamiliar with the site always check the FRESHWATER, SALTWATER and TACK-TICS pages. The Saltwater page now extends back as a record of over several years of (mostly) sea fishing and may be a useful guide as to when to fish. The Freshwater stuff is also up to date now. I keep adding to both. These pages are effectively my diary and the latest will usually be about fishing in the previous day or two. As you see I also add the odd piece from my friends and correspondents if I've not been doing much. The Tactics pages which are chiefly 'how I do it' plus a bit of science are also updated regularly and (I think) worth a read (the earlier ones are mostly tackle and 'how to do it' stuff).
'Flaming' June!
When we returned from Portugal it turned out that my pals in Dorset hadn't done any better with the bass than Richard and I did in Porto. Although I was a little surprised that the fish hadn't turned up in my absence, I almost sighed with relief at not having missed much. To get back into the swing of things I had a few short sessions in the river and failed to catch the seatrout that I was after. However, I did manage to hook two or three good sized 'accidental salmon', a couple of titchy trout and a single pike as compensation.
One of my salmon (latest Freshwater web pages for story).
Of course it wasn't long before I had to have a dabble in the sea and it turned out that things had not improved. I generally blanked and none of my pals were able to catch much apart from the odd little schoolie. Bill and I had a trip and couldn't buy a bite, although we saw numbers of medium sized mullet in the rough weedy conditions as we were walking back.
Bill blanking on a pleasant afternoon.
In mid-June I tried free-lining a mackerel head and shoulders on one of the many ledges which, in the past, has produced some nice bass to this tactic - nothing! I went again the following morning and tried a similar tactic in a little weedy bay, this time with a sardine as bait. It was flat calm and I saw quite a few fish cruising as the tide began to rise. The surface cruisers were mullet and of course were not interested in my bait. One decent fish , which may? have been a bass, swam almost to my feet before taking fright and shooting away but again I blanked.
Later the same morning I had an email from Bill. He'd been more adventurous and had walked a couple of miles in the opposite direction to me. Here's his description of the result - bear in mind that he had also been regularly blanking until this session. He commented that it was calm with the very lightest southerly breeze. He fished either side of the high spring tide and here's his description:-
"... although I could see some fish on the surface, didn't catch anything. A little further on I came to a patch of gravel and had a few missed bites on the SlugGill. I could see bass hitting the surface every now and again so I tried a Savage Gear Pencil fished quickly across the surface and caught 4 small fish. I made my way further along the shingle beach, where I fished for two hours and caught another 11 small fish, the best was just over 2lb. Fish were still feeding when I left. I had a couple of casts on the way back and on my last cast I landed the16th fish of the morning. Was knackered and a bit sun burnt by then so, despite just having landed another tiddler, I decided to call it quits and start the long walk back. With the rubbish fishing recently I'd half expected a blank, but it turned out to be an OK morning. It would have been much better if the fish had been bigger!
One on the 'Pencil' for Bill.
... and another on the SlugGill.
My own next trip was the following morning to spin from the rocks into a tide race, on the ebb. Conditions looked good but I was 30 minutes too late. I concluded that, even if I'd got up earlier it would probably would have made no difference to the catch. There were no birds feeding – should have gone with Bill I guess?
To rub salt in the wound another pal (another 'Mike'), Had tried an evening session from the rocks into deeper water. His report said:-
I thought it was going to be a fruitless evening but was proved very wrong. Arrived-19:00hr at low water and left at 22:15 at the top of the tide. Conditions were pretty flat with only small waves. I had thirteen pollack with the best about 1.5lb and ten bass, the best at 42cm but most were 1lb or under also a couple of mackerel. Most of the fish took a small Dexter. I was not expecting at lot as it has been very slim pickings at that spot for the last few years, with pollack scarce and bass absent. The wedge was being tapped almost every cast.The mackerel were caught at 21:45 - the last fish of the night. A thoroughly enjoyable evening.
A small bass for the other Mike.
B... and a mini-pollack.
Still no monster, but Mike's best bass.
I guess that after these results we might have thought "Here we go at last!" but no. A few days later Bill had a morning session on a different stretch and blanked. He was the only one fishing that day. Apparently he fished "all the usual spots," but didn't see any fish at all other than a couple of mullet as he walked back.
Finally I went again, at dawn, a couple of days later. Following the evidence from the other Mike I tried from a (different) rocky ledge and, as well as the spinning gear, I took a 'livebait rod' armed with just a circle hook. It was pretty rough with a 1m swell breaking against the cliff. I started fishing before dawn (although it was already quite bright). I tried a Toby for ten minutes – no bites. Switched to a wedge and first cast caught a reasonable sized mackerel which I immediately put on as a live-bait. Fished the live mackerel (holding the rod) for 40 minutes and it was still very active when I eventually reeled it back in, but no bass bites (I must be mad). A few casts with the wedge before I packed in produced two modest pollack. I guess that I could have caught more mackerel and/or pollack if I'd spun all the time?
My livebait - it swam for ages - but no bass!
A small pollack on the wedge for me.
– PLEASE TELL YOUR TWITTER, FACEBOOK, EMAIL FRIENDS ABOUT THESE BOOKS.
HOOKED ON BASS
Written with Alan Vaughan. NEW PRINT OF THE ORIGINAL: IN PAPERBACK. Copies available from all good book shops RRP £14:99 - "Waterstones"
ANGLING ON THE EDGE

Copies can now be ordered (printed on demand) from Steve Pitts at £34.00, inc. Royal Mail Insured UK Mainland Postage.
To order a book send an E-MAIL to - stevejpitts@gmail.com
FISHING FOR GHOSTS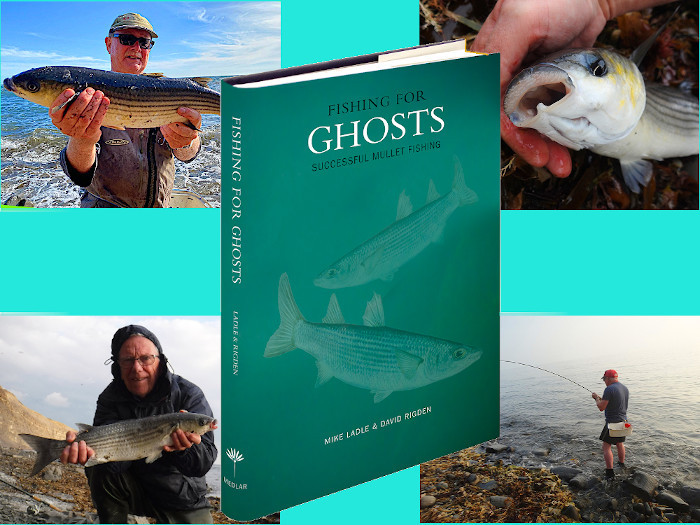 Written with David Rigden. Copies from "The Medlar Press"
THE SECOND WAVE
Written with Steve Pitts this is a SEQUEL TO THE BESTSELLER "Operation Sea Angler" IT'S AVAILABLE ON PAPER FROM -

"Veals Mail Order"
AND ON PAPER OR FOR YOUR KINDLE FROM
"Amazon"

If you have any comments or questions about fish, methods, tactics or 'what have you!' get in touch with me by sending an E-MAIL to - docladle@hotmail.com