Catch Fish with
Mike Ladle
"HOME."
Information Page
SEA FISHING
For anyone unfamiliar with the site always check the FRESHWATER, SALTWATER and TACK-TICS pages. The Saltwater page now extends back as a record of over several years of (mostly) sea fishing and may be a useful guide as to when to fish. The Freshwater stuff is also up to date now. I keep adding to both. These pages are effectively my diary and the latest will usually be about fishing in the previous day or two. As you see I also add the odd piece from my friends and correspondents if I've not been doing much. The Tactics pages which are chiefly 'how I do it' plus a bit of science are also updated regularly and (I think) worth a read (the earlier ones are mostly tackle and 'how to do it' stuff).
'A bass I didn't know was on'.
It has been tricky fishing recently so I've combined two or three trips for this page. To start with, a lack of sea fish had driven me to the river and even that was not without problems. Having caught quite a few pike and perch by spinning, I got up early one morning to have another go. It was mild and calm and seemed perfect. I chose a place that's pretty consistent only to find that the water was full of drifting hay. After a fruitless ten minutes casting and cleaning crap off the hooks I packed in and drove to another stretch a bit further upstream. There wasn't much doing but I did manage a single perch, well under a pound, before 'giving them best' and going for my breakfast.
My bonus perch on an otherwise poor morning.
A few days later I had a trip to the coast with my pal Bill. It was a hot, sweaty trudge and we caught nothing but it was good to have a chat. A day or two later Bill sent me an encouraging email. He'd been for a long, very early morning walk along the same stretch and landed four bass up to about 3.5lb on his softbaits. He also mentioned that he'd seen other bass close in. He described the spot for me and (I knew exactly where he meant) and suggested that I tried bait fishing for them as the tide began to flood. The next day I was up at the crack of dawn and hopping from rock to rock as I tramped along the shore. I arrived at low water and snout-hooked a big sardine onto my 6/0 circle hook. The water was very shallow over the flat rocks and, although there was a fairly stiff breeze from the west, it was flat calm and I could see no sign of fish.
I stood quietly with the bait dangling from the rod tip as I watched for signs of bass. It was several minutes before the sea began to creep in over the ledges and I had to take a couple of paces back to avoid disturbing the water by the movement of my feet. As I moved I noticed a slight swirl about five metres out from where I stood - it was still ten minutes earlier on the flooding tide than Bill had suggested that the fish might turn up. I swung the bait out so that it dropped well to the side of the possible bassy-swirl. Five minutes passed with not a twitch nor a tug. It was difficult to keep any sort of tight line because of the breeze so I reeled in to check that the bait was OK (not crabbed or weeded). It was still in mint condition. At this point I saw another little swirl and this time it was definitely a fish. Out went the sardine again and it landed probably five metres beyond the waters edge. Once more I waited and again a large bow developed in the line due to the wind.
Five more minutes passed and I noticed a couple more signs of fish moving in the shallow water - encouraging! It was a bit irritating that I was unable to feel what was going on at the business end of the tackle. I'm thinking 'could the bait be in a bad spot'? My patience (never very good) failed and I decided to have another cast. I slowly reeled in and as the bow in the line tightened there was a crash and a splash only a few centimetres from the edge of the sea, the rod bowed and a fish was on. Clearly it had picked up the sardine without me feeling anything and continued its foraging. The clutch zuzzed and I was playing it. The bass was no monster but I was chuffed to have had a bite and even more pleased to have hooked the culprit. I eased it ashore onto the flat rocks and took a couple of pictures before unhooking and releasing it a, nice, plump, fish of 48cm probably three pounds+. Small for one caught on a free-lined bait, but at least it was a bass.
My bait-caught bass - no monster but satisfying.
Couldn't have been better hooked if I'd done it on purpose.
The next trip was an attempt to spin a tide race on the ebb tide. I fished my usual short session from 04:45 – 06:00. My lure was a weedless, EvoStix Redgill with a split-shot nipped onto the hook shank to provide a little bit of weight. It was easy fishing and I started by fanning my casts out and waiting 'til the eel swung round in the flow. I varied the distance of each cast to try and cover as much water as possible. It was a little while before I had a bite. This one was at short range but when it arrived the take was savage. The fish put up a good battle in the race. Although it wasn't large (about 4lb) it took a good bit of line against the clutch. After that I only managed two more bites (both landed) and the smallest of them was really tiny.
It's running off hard. I was standing just off the bottom of the picture and all the fish took roughly under the arrow. Only a flick away.
The largest of my tide race bass pulled hard in the very strong flow.
This tiny bass still engulfed the lure and hook.
I went for breakfast well pleased with the result. Must try again soon (next springs?)
– PLEASE TELL YOUR TWITTER, FACEBOOK, EMAIL FRIENDS ABOUT THESE BOOKS.
HOOKED ON BASS
Written with Alan Vaughan. NEW PRINT OF THE ORIGINAL: IN PAPERBACK. Copies available from all good book shops RRP £14:99 - "Waterstones"
ANGLING ON THE EDGE

Copies can now be ordered (printed on demand) from Steve Pitts at £34.00, inc. Royal Mail Insured UK Mainland Postage.
To order a book send an E-MAIL to - stevejpitts@gmail.com
FISHING FOR GHOSTS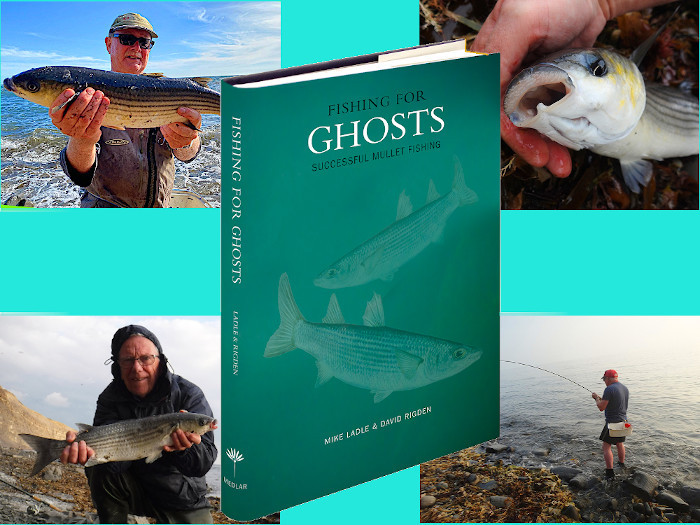 Written with David Rigden. Copies from "The Medlar Press"
THE SECOND WAVE
Written with Steve Pitts this is a SEQUEL TO THE BESTSELLER "Operation Sea Angler" IT'S AVAILABLE ON PAPER FROM -

"Veals Mail Order"
AND ON PAPER OR FOR YOUR KINDLE FROM
"Amazon"

If you have any comments or questions about fish, methods, tactics or 'what have you!' get in touch with me by sending an E-MAIL to - docladle@hotmail.com