Catch Fish with
Mike Ladle
"HOME."
Information Page
For anyone unfamiliar with the site always check the FRESHWATER, SALTWATER and TACK-TICS pages. The Saltwater page now extends back as a record of over four years of (mostly) sea fishing and may be a useful guide as to when to fish. The Freshwater stuff is also up to date now. I keep adding to both. These pages are effectively my diary and the latest will usually be about fishing in the previous day or two. The Tactics pages which are chiefly 'how I do it' plus a bit of science are also updated regularly and (I think) worth a read (the earlier ones are mostly tackle and 'how to do it' stuff so if you are new to fly fishing or spinning these are the ones for you).
01 April 2007.
The season's beginning.
I couldn't go fishing with Ben on Saturday and when he rang he told me that he'd blanked at the coast. Of course that's not unusual at this time of the year but we decided to give it a miss on Sunday morning and to go trout fishing instead.
It was the first of April and the first day of the trout season. We met at six o'clock in the morning rarin' to go. We were both armed with plugging gear and small (J9) buoyant Rapalas - the best approach for the prevailing conditions. We walked to the top end of the stretch and flicked our lures across patches of open water (not many of those). As my plug came back over the submerged marginal grasses there was a splash and a swirl and a big back came out of the water as something tried to grab my plug and missed. Two casts later the same again. I left it for a couple of minutes, commenting to Ben that "if it was a trout it was a big one!" I had another go and 'blow me down!' again the fish missed the lure in the margin. I left it for Ben to have ago and this time the fish struck in mid-stream and hooked itself. After a couple of minutes it was revealed to be (what I had suspected) a five or six pound pike - a monster for this little stream. Unfortunately, as Ben tried to slide it ashore, the fish came off and lay in the edge of the water with its dorsal fin sticking out. I made a grab for it but it shot away and was not seen again.
After the pike fiasco we fished on downstream, drifting the plugs into likely spots before retrieving. We landed a number of trout, mostly small, with the best about a pound or so. All were returned. It was good to relearn the tricks of fishing, commando style, in a tangle of trees and weed. We hooked branches, twigs and weed beds on every other cast, often scaring fish, I'm sure, as we splashed about to untangle lures. The main trick was to get a lure into the spots that were likely to hold fish. Anyway, it was much more entertaining than a cold blank on the seashore and we both enjoyed our session.
First trout of the season
Another trout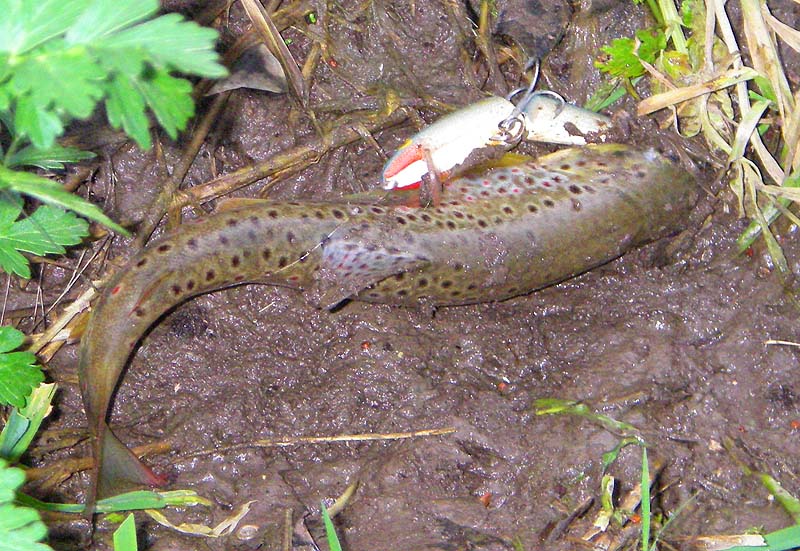 Where's it going?.
Success.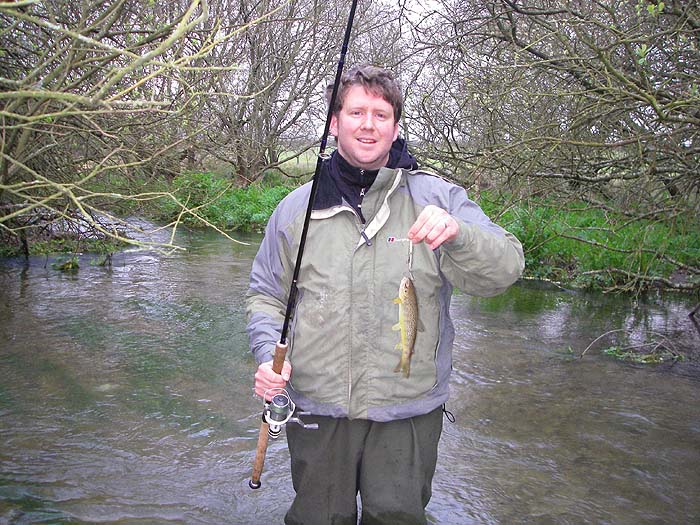 Matto Grosso!