Catch Fish with
Mike Ladle
"HOME."
Information Page
For anyone unfamiliar with the site always check the FRESHWATER, SALTWATER and TACK-TICS pages. The Saltwater page now extends back as a record of over four years of (mostly) sea fishing and may be a useful guide as to when to fish. The Freshwater stuff is also up to date now. I keep adding to both. These pages are effectively my diary and the latest will usually be about fishing in the previous day or two. The Tactics pages which are chiefly 'how I do it' plus a bit of science are also updated regularly and (I think) worth a read (the earlier ones are mostly tackle and 'how to do it' stuff so if you are new to fly fishing or spinning these are the ones for you).
20 April 2007.
More carping.
Ben rang the other day and persuaded me to go for an evening's carping (actually we had about an-hour-and-a-half). I had a bag of mixers and he brought a crusty loaf so we were well set up. despite the fact that we'd never been carping together before our rods, reels and lines were similar and each was armed with a single size six carp hook and no other paraphernalia. Ben hadn't fished the lakes for many years so I took him to the reedy swims where I'd caught carp the previous week. Sure enough, as we arrived, there were many rustlings and shakings in the reeds so we were quite optimistic.
I threw in a handful of 'dog biscuits' and baited my hook with a couple while Ben attached a big lump of crust to his. We swung our baits out into the reeds and waited. A couple of the loose biscuits were sucked in and a carp snaffled Ben's crust. He baited up and cast again. I walked twenty metres to another spot and once again flicked the mixers into the reeds.
It was not long before I saw Ben raise his rod and the crashing and splashing in the reeds told me he was into a fish. I wound in and picking up the camera, nipped back to take a couple of pictures. His fish was a beautiful, fully scaled mirror. We returned to our pitches and set to again. After ten minutes or so Ben was into another carp. This fish was a common, a bit bigger and full of fight. By now I was beginning to think that my dog biscuits were not the 'in bait' for the evening so I borrowed a lump of crust and stuck it on the hook. It was a little while before we had another bite but this time it was my crust that disappeared. Ben netted my fish and took a picture (a bit fuzzy as the gloom was now descending) before we packed in and returned home.
Ben's mirror plunges away.
What a fish.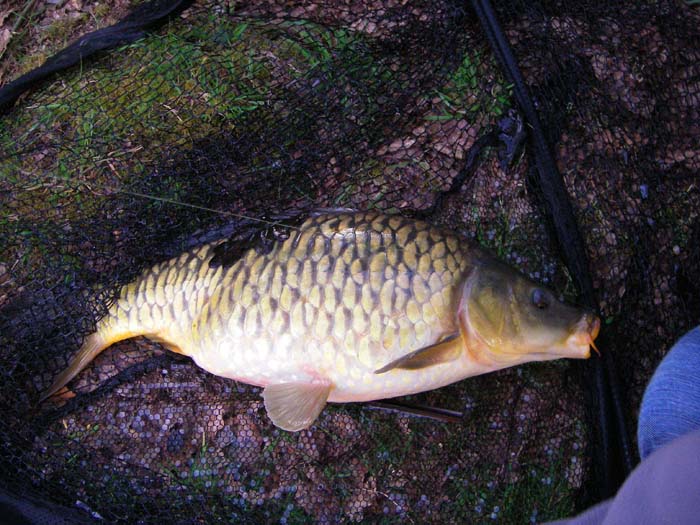 Ben into his second fish.
A common.
My carp.