Catch Fish with
Mike Ladle
"HOME."
Information Page
For anyone unfamiliar with the site always check the FRESHWATER, SALTWATER and TACK-TICS pages. The Saltwater page now extends back as a record of over four years of (mostly) sea fishing and may be a useful guide as to when to fish. The Freshwater stuff is also up to date now. I keep adding to both. These pages are effectively my diary and the latest will usually be about fishing in the previous day or two. The Tactics pages which are chiefly 'how I do it' plus a bit of science are also updated regularly and (I think) worth a read (the earlier ones are mostly tackle and 'how to do it' stuff so if you are new to fly fishing or spinning these are the ones for you).
17 December 2007.
Pike.
My prolonged lack of fishing this time was due to a nasty stomach bug - my wife not me - but she was much better today so I rang Nigel to suggest a spot of pike fishing. He was out but when he rang me back a bit later it turned out that he was already fishing and had just landed a couple of two pound grayling so, not surprisingly, I would be fishing alone.
The first thing was to catch bait so I took the old float rod and a few maggots. It probably took me half-an-hour to catch six decent baits which left me with about one-and-a-half hours fishing time. Access was difficult due to the recent heavy rains. The river was back in its banks and clear but there were few places that weren't turbulent. Even the deeper spots were boiling and swirling. The first pool that I tried was a large bay at the end of a ditch. It produced nothing but because I could only get at one side of the ditch the really pikey, slow flowing, weedy area remained unfished.
I walked on down and found another slack about 200m further downstream. This time the bait was taken within a couple of minutes. The fish pulled hard for perhaps ten seconds and I caught a glimpse suggesting that it was probably about ten pounds before it let go. Was it something to do with the barbless circle hook? I thought not. It wouldn't take again (unusually) so I moved on down. the next two pools were eddying round and I never had a sniff so I walked on again to where another ditch met the river. This time there was a big area of really slack water bounded by last year's reed growth - it looked wonderful. My bait swam off into the slack - just where I wanted it, and the cork shot under. I tightened and the fish was hooked. It splashed on the top and ploughed about before I got it into the net, took its picture and released it.
It looked such a good spot that I thought it was worth another chuck. Away went another bait and as it neared the reeds the cork whipped under. Another decent pike was hooked, landed and released. This one was a bit bigger than the first (it was certainly a different fish because the earlier fish had a small scar near its pelvic fins). This was good so I put on another bait and sent it off to search the pool again. Once more it was only minutes before there was an almighty splash as another pike lurched out of the reeds and seized my bait. This one was a good deal bigger than the others and took a while to land. I took its picture and slipped it back.
Three decent fish in ten minutes from within twenty square metres. By now I was thinking 'few dead slack areas' - 'pike aggregated' - 'find another slack and try again'. I recalled that I hadn't managed to reach the big slack in the first bay (where I'd had no bites). I decided to cross over the river and try to reach the spot from the other bank. When I got there it was knee deep in soft mud but I could just swing a bait into the edge of the pool without getting too bogged down. After five minutes I had my fifth take and landed my fourth pike of the session. Encouraged I put on my last bait and swung it out into the pool again. Five more minutes and my fifth pike was landed - the smallest of the afternoon.
I didn't weigh any of the fish but I suppose that they ranged from about five to fifteen pounds. Considering that it was a very cold windy afternoon and that I only had six baits I was well pleased with the results. Nigel told me later that after his two grayling he never had another bite - that's fishing!
Dace.
Roach.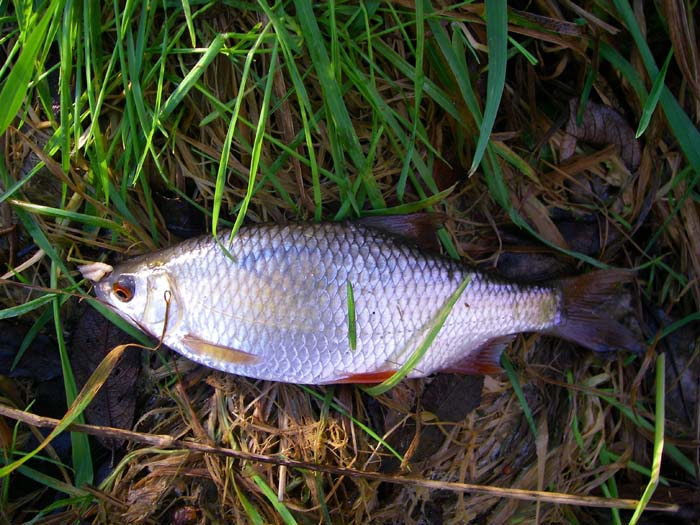 Whoaaa!
Got you!
The next one.
- and the next.
Beautifully hooked!
Yet another.
- and the last.