Catch Fish with
Mike Ladle
"HOME."
Information Page
For anyone unfamiliar with the site always check the FRESHWATER, SALTWATER and TACK-TICS pages. The Saltwater page now extends back as a record of over four years of (mostly) sea fishing and may be a useful guide as to when to fish. The Freshwater stuff is also up to date now. I keep adding to both. These pages are effectively my diary and the latest will usually be about fishing in the previous day or two. The Tactics pages which are chiefly 'how I do it' plus a bit of science are also updated regularly and (I think) worth a read (the earlier ones are mostly tackle and 'how to do it' stuff so if you are new to fly fishing or spinning these are the ones for you).
23 February 2008.
Loads o' pike.
Nigel is mad! Well to be honest all my pals are almost as stupid as I am when it comes to fishing but the other morning Nigel excelled himself. He had a day off work so he decided to go fishing on the River. Nothing wrong with that! You say. However, he inquired if I would be joining him, so I asked "When?" He replied, "Seven-o'clock in the morning". Now every morning recently has been freezing cold (literally) and I thought that fishing at daybreak was a bit over the top. As it turned out I had other duties that morning so I couldn't fish with him (It's true!!!!) so I said I'd ring Ben and we'd join him later in the day.
When I woke up, at six-thirty, the next day I thought of Nigel freezing on the river bank in the clear light of dawn. He was going to a stretch that I'd never fished and I was dying to see what it looked like. I got out of bed, dressed, picked up the camera and set off to see how he was doing. It was just as bleak as I'd imagined and as I got out of the car, I could see the lone figure silhouetted against the frosty grass on the riverbank. I trudged across the muddy fields to his side and found him trotting maggots in hope of a grayling. No bites so far. He told me that he hoped to have a go for pike later on but he'd only been able to purchase one massive rainbow trout for dead bait. After half-a-fishless-hour and a chat I left him and went back for breakfast saying that "I'd see him later!"
At mid-day Ben picked me up and we drove to the river (another spot) to catch some bait. After a few hilarious minutes catching dace and extracting floats from alder trees Nigel turned up. As it turned out he'd not got frostbite but he hadn't had a sniff on the float gear. When he'd switched to the pike tackle the rainbow trout was, of course, much too big for bait so He had to cut it up. To cut a long story short, he'd baited his circle hook with about a quarter of it (upper jaw, head, gills and a bit of body) and begun to twitch it when it was attacked by a big pike. At the second attempt he hooked the fish, played and landed it - twenty-six-and-a-half pounds; what a clonker! Of course he'd left the camera behind so no pictures.
After Nigel's big fish everything paled into insignificance, although we caught lots of pike up to the teens of pounds. Some took livebaits others took deadbaits and at long last one took Ben's bait. It was 'one of those days' for Ben. He'd move out of a swim and Nigel or I would plop a bait in for it to be taken promptly by another pike. It was like a curse or one of those cup football matches when every shot rained in on the opponent's goal hits the woodwork or is miraculously saved by the keeper's toenails. On one occasion Nigel had laid his rod down, with the baitrunner open while he helped me to land a pike. Ben, keeping and eye on it, detected a bite and promptly landed a decent pike - on Nigel's gear.
The following day Nigel and me took the rods and the camera down to try and recapture Nigel's big fish (for a piccie) but - of course - there was no chance. The baits were taken by lots more pike but no sign of the biggie. That's fishing!
Nigel into a fish.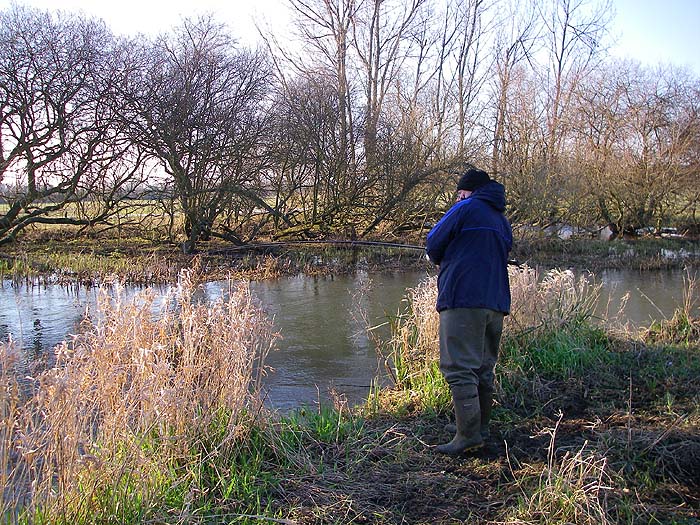 Nice one.
Another.
One of mine.
Ben catches Nigel's pike.
Ben's own.