Catch Fish with
Mike Ladle
"HOME."
Information Page
For anyone unfamiliar with the site always check the FRESHWATER, SALTWATER and TACK-TICS pages. The Saltwater page now extends back as a record of over four years of (mostly) sea fishing and may be a useful guide as to when to fish. The Freshwater stuff is also up to date now. I keep adding to both. These pages are effectively my diary and the latest will usually be about fishing in the previous day or two. The Tactics pages which are chiefly 'how I do it' plus a bit of science are also updated regularly and (I think) worth a read (the earlier ones are mostly tackle and 'how to do it' stuff so if you are new to fly fishing or spinning these are the ones for you).
13 July 2009.
Brazilian fishing.
While we were on holiday the first spot of fishing we managed to do was in an exceedingly muddy river (not unusual in the Pantanal). To go back to the start of our trip - on our drive from the town of Campo Grande into the Mato Grosso we passed a number of bait shops - some of them combined with eating places. We stopped at one that looked promising to get the lowdown on local baits and were absolutely stunned by what we saw. The first thing that greeted us was a rack full of hooks. They were fairly crude ones of the barbed shank 'Octopus' type and ranged from about size 4 to size 12/0. The interesting feature was that the eye of every hook was linked to what I can only describe as a section of bicycle spoke with a big brass swivel at the other end. Clearly they were all intended for big fish with teeth.
We had a chat with the very friendly owner of the shop and he showed us his selection of live baits. Firstly there were freshwater crabs about the size of a decent shore crab. Next there were worms, rather like lobworms but each one was almost a metre in length. Then there were the fish baits. One tank contained some small fish like modest roach or dace, the next two were full of black knife fish of up to about half-a-metre and the last selection of baits consisted of a type of eel (probably Synbranchus) of which the biggest were each pushing a metre in length. My thoughts were on the lines of - 'If they are the baits lead me to the fish!'
Back to the muddy river. Near our first B&B were some landing stages so arming ourselves with some bits of old meat for bait we sallied forth. Ana fished with the traditional Brazilian bit of bamboo cane while Rich and me used our spinning rods. Despite the colour of the water I tied on a popper while the others tried smallish hooks, all on wire traces, baited with chunks of beef. No interest in the lure except for an an excited alligator, so I soon joined the meat drowning brigade.
Almost at once the bait anglers were into fish. The first one landed was (I think) a 'pacu-peva' (Mylossoma) looking a bit like a piranha that had lost its false teeth. Close inspection showed that our catch had recently suffered the depredations of true piranhas - its fins were scalloped by many semicircular bites. Our next catch was a 'proper' piranha of the genus Serrasalmus, silver bodied and spotted with a fine array of triangular teeth. The third fish was a different type of piranha Pygocentrus with the fiercest looking jaws I've ever seen. At this point Rich and I began to discuss who should hold the little fish and who should unhook them - neither job seemed attractive. After catching several more fish of the same kind we had to go for lunch but I as far as we were concerned it was a real bonus to land something and to have caught 'real piranhas' at our first attempt was fantastic. To be honest it was already apparent that these toothy little devils would be a real problem when we tried to catch other fish and so it was to prove.
Isca Viva - live bait.
Hooks.
Lobworm!!!!
Live baits.
Plugging.
Bait fishing.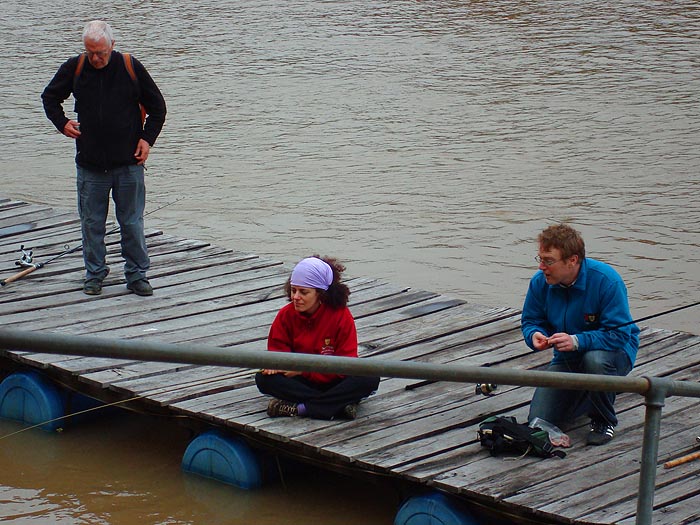 First fish of the trip.
Phew!!!
Natterer's piranha