Catch Fish with
Mike Ladle
"HOME."
Information Page
For anyone unfamiliar with the site always check the FRESHWATER, SALTWATER and TACK-TICS pages. The Saltwater page now extends back as a record of over four years of (mostly) sea fishing and may be a useful guide as to when to fish. The Freshwater stuff is also up to date now. I keep adding to both. These pages are effectively my diary and the latest will usually be about fishing in the previous day or two. The Tactics pages which are chiefly 'how I do it' plus a bit of science are also updated regularly and (I think) worth a read (the earlier ones are mostly tackle and 'how to do it' stuff so if you are new to fly fishing or spinning these are the ones for you).
14 November 2009.
Pike on circle hooks again.
Recently I've again been catching pike for research. The fish are released after tagging with Passive Integrated Transponders (electronic identifier chips a bit like the ones in your dog or cat). I've said it before but by far the least stressful and most effective way of obtaining pike for such tagging is by using rod and line. Not only is the pike quickly extracted with a minimum of trauma but it is even possible to largely avoid repeated recaptures of particular fish until they need to be checked on a future occasion. After all these years I'm now getting quite good at this and my couple of sessions have produced lots of decent pike. However, at times I simply want to go pike fishing, so I normally avoid the research sections of river when I'm doing my fishing purely for relaxation.
Last weekend Ben and I opted for a couple of hours in search of pike. We were using identical tackle with knottable wire traces and circle hooks through the lips of the baits. When we got to the river my bait was the first to hit the water. Within a minute I had a take and shortly afterwards Ben netted my 8kg (17lb+) fish - what a start! In the next pool we had a couple of bites, both of which came unstuck. Probably relatively small fish we assumed. The pike fed well and although there didn't seem to be fish in every pool I would say we averaged a take about every twenty minutes. All in all, a very satisfying session. We didn't land every fish but all the ones we netted were neatly hooked in the lip. On the whole it is pretty unusual for us to land a fish that is not lip-hooked using our current tactics and I don't ever see a return to the use of trebles for any form of bait fishing as far as we are concerned.
Good start.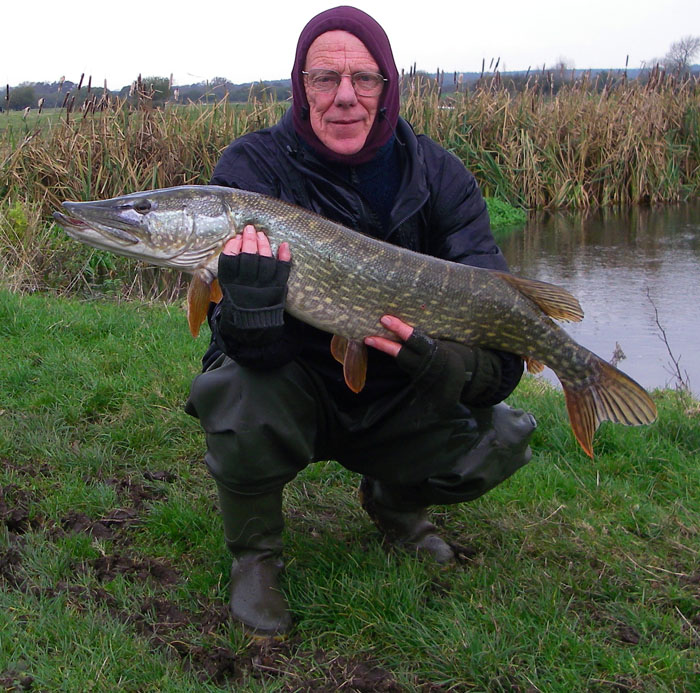 Lip hooked.
Ben's in!
Unhooking.
Back it goes.