Catch Fish with
Mike Ladle
"HOME."
Information Page
SEA FISHING
For anyone unfamiliar with the site always check the FRESHWATER, SALTWATER and TACK-TICS pages. The Saltwater page now extends back as a record of over several years of (mostly) sea fishing and may be a useful guide as to when to fish. The Freshwater stuff is also up to date now. I keep adding to both. These pages are effectively my diary and the latest will usually be about fishing in the previous day or two. As you see I also add the odd piece from my friends and correspondents if I've not been doing much. The Tactics pages which are chiefly 'how I do it' plus a bit of science are also updated regularly and (I think) worth a read (the earlier ones are mostly tackle and 'how to do it' stuff).
Mahseer!
The rivers and lakes of the world contain some amazing fish. A number of the larger species have become true fishing icons - fish that most anglers would love to catch if only they had the chance. Nile perch and tigerfish in Africa, muskellunge in North America, arapaima, peacock bass and dourado in South America, mahseer in India. A few weeks ago my pal Adrian Pinder - a wonderful, all-round angler - asked me if I fancied a trip to India after mahseer. Of course I'd have jumped at the chance but the dates clashed with my recent holiday. Anyway, I asked Adrian to let me know 'how it went' and recently he sent me an account of his trip along with a load of pictures. It turned out to be as good as, if not better than, he could have hoped:-
Hi Mike
Thought I'd drop you a brief report on my recent trip to India following a lifetime ambition of making my acquaintance with the legendary mahseer.
After a long flight and crazy journey in a clapped-out (dust filled) minibus, the small group I was travelling with arrived at Galibore fishing camp on the River Cauvery. Having read 'Somewhere down the crazy river' by Paul Boote and Jeremy Wade, I thought that I was mentally prepared for what to expect, but the first sight of the river blew my mind to smithereens – absolutely beautiful; a valley strewn with granite boulders and a river bordered with pure white sandy beaches, with a magnificent diversity of depths and flows from raging rapids to sedate glides.
Our mode of transport for the week was a bamboo coracle lined with plastic sacks. This basic design proved to be essential for chasing hooked fish, escaping crocodiles and was surprisingly nimble when it came to descending hair-raising rapids.
The wildlife was truly out of this world, with mugger crocodiles snatching deer from the margins, fish eagles and various species of kite soaring overhead, wild boar, monkeys and sloth bear. If that's not an impressive list as it stands, on arrival I was told that a leopard had killed a deer outside my tent the night before I arrived.
As for the fishing, we are talking serious gear, with 6-10oz uptide rods matched with big multipliers carrying 40lb mono. Initially I thought this was over the top, but soon found out that 10lb mahseer could seriously test this tackle (and the angler) in the rapids and on the third day, to my dismay, I had a fish tow our coracle downstream while stripping line from the spool before smashing me on one of the jagged submerged boulders. This was indeed one of the monsters of the river and probably in excess of 70lb!
Baits were also of gargantuan proportions. Although we caught mahseer on livebaits, Mepps spinners and flies, ragi paste was the staple bait; with grapefruit sized balls fished on a hairs mounted to Owner 8/0 hooks.
This style of fishing is definitely not for the faint hearted. Wading neck deep across crocodile infested waters was necessary to reach suitable fishing spots.
Throughout the week the best fish both fell to the same angler and weighed 66lb and 77lb. Excluding the beast which I lost, my best fish were between 25 and 35lb and due to the power of these fish, combined with the scenery and the company with which I was privileged to share the experience, this undoubtedly marked the pinnacle of my angling career to date
That's saying something for Adrian - he's a top class angler whatever the circumstances.
The River Cauvery is full of exotic species and here's a taster for just some of the species we encountered on our trip:
Rohu
Pink carp
Indian spiny eel
Murrel (snakehead) caught on a large live bait intended for mahseer
Despite me telling the wife that this was a trip of a lifetime, on my return, I had to break the news that I've already booked again for next year. Well, with sunrises like this, it would be rude not to really.
Mega thanks to Dave Plummer and Angling Direct Holidays for a very special experience. http://www.anglingdirectholidays.com/
Regards
Adrian
If you have any comments or questions about fish, methods, tactics or 'what have you!' get in touch with me by sending an E-MAIL to - docladle@hotmail.com
Tha Cauvery.
The coracle.
Mugger.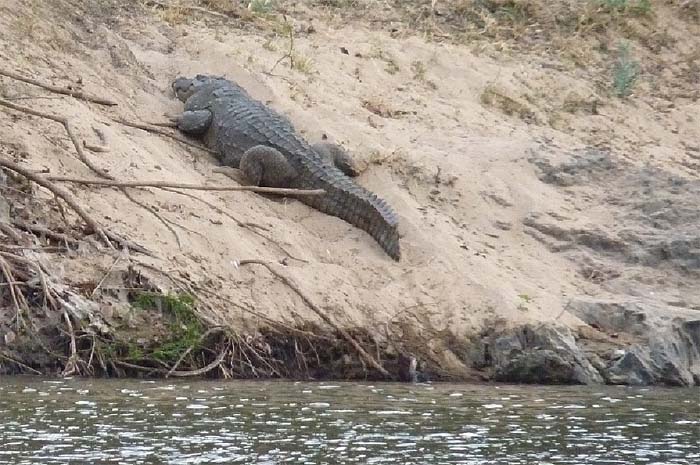 The gear.
Ragi paste.
Nice mahseer.
- and a bigger one.
- and a bigger one.
Rohu.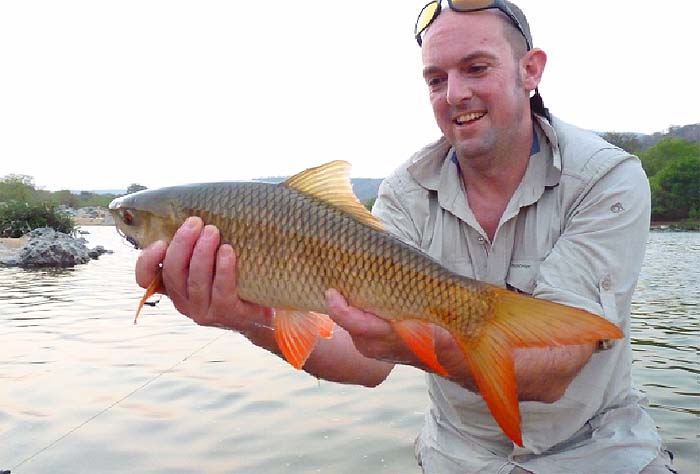 Pink carp.
Indian spiny eel.
Murrel.
Aaaaaah.