Catch Fish with
Mike Ladle
"HOME."
Information Page
Freshwater Fishing
For anyone unfamiliar with the site always check the FRESHWATER, SALTWATER and TACK-TICS pages. The Saltwater page now extends back as a record of over several years of (mostly) sea fishing and may be a useful guide as to when to fish. The Freshwater stuff is also up to date now. I keep adding to both. These pages are effectively my diary and the latest will usually be about fishing in the previous day or two. As you see I also add the odd piece from my friends and correspondents if I've not been doing much. The Tactics pages which are chiefly 'how I do it' plus a bit of science are also updated regularly and (I think) worth a read (the earlier ones are mostly tackle and 'how to do it' stuff).
Pike nuisances.
The rivers are still very low and now they are full of autumn leaves blown from the trees. Very attractive and colourful but not making lure fishing any easier. Anyway, the other day I decided to have a go for perch and chub with the plug. With the water being so shallow in most places I used the very shallow diver (it often wiggles accross the surface) given to me a few weeks back by my pal Terry.
The first spot I tried is usually a banker for perch but on my third cast to the far bank there was a yank and a splashy swirl as a fish grabbed the lure and immediately came unstuck. Clearly it was a modest pike so after a couple more biteless chucks I moved on downstream. Had I known, it was a strong hint of things to come. My first catch was a perch which took as the plug crossed a shallow bank in a deeper slack. Good! No more perch there but the next place produced a jack pike from under the trees. Next spot another jack, then another. This was not looking good. I cast to a gap in a patch of big green reeds out in mid-river. An instant bite produced a chub of perhaps one-and-a-half pounds. Better!
Sadly that was the end of the perch and chub catches for the session. All I could catch was one pike after another. Wherever I chucked the plug, deep or shallow, slow or fast flowing there seemed to be a small pike. Why is it that the activity of different species can be so variable from day to day? Interestingly, after I had written this I had an email from my friend Richard Gardiner. Richard had been fishing a different stretch of the same river at about the same time as me. This is what he said - Hi Mike, Probably thatís it for me for the bass and need to look for the pike now especially as I went to the river on the way home on Wednesday and had 9 pike (only to 5lbs max) and a nice pound plus perch. If I didnít know you'd been down there I would swear nobody else had been before me it looked so undisturbed. It just goes to show that the 'small pike bonanza' was due to conditions not location or angler approach.
If you have any comments or questions about fish, methods, tactics or 'what have you!' get in touch with me by sending an E-MAIL to - docladle@hotmail.com
Perch.
Pike.
Chub.
Closer.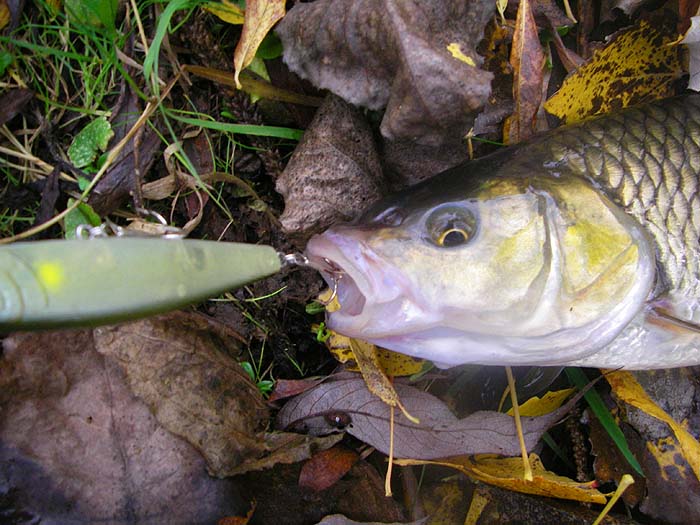 Pike again!