Catch Fish with
Mike Ladle
"HOME."
Information Page
Freshwater Fishing
For anyone unfamiliar with the site always check the FRESHWATER, SALTWATER and TACK-TICS pages. The Saltwater page now extends back as a record of over several years of (mostly) sea fishing and may be a useful guide as to when to fish. The Freshwater stuff is also up to date now. I keep adding to both. These pages are effectively my diary and the latest will usually be about fishing in the previous day or two. As you see I also add the odd piece from my friends and correspondents if I've not been doing much. The Tactics pages which are chiefly 'how I do it' plus a bit of science are also updated regularly and (I think) worth a read (the earlier ones are mostly tackle and 'how to do it' stuff).
Better pike.
After my last piking trip with Nigel, when I blanked using a big weedless 'Slandra' lure, I just had to have another go. The lure looked fantastic with its sinuously wriggling tail and it was perfect for fishing in the extremely low water conditions. In fact there are not many pikey spots at the moment so by slowly retrieving the soft plastic through the remaining bits of weed and close to the snaggy bed it is possible to cover just about all the likely lies.
My first bite was a tiddler of about three pounds which obligingly hooked itself and was duly landed and released without much of a problem. Better than nothing and a bit of encouragement. Fifteen minutes later I reached one of the few spots which I really fancied for a pike. My first cast across to the far bank was taken but the fish (probably four or five pounds from the look of it) didn't stick. I fanned out the next half-a-dozen casts down and across so as to cover the pool. As I was bringing the lure back along my own bank there was a pluck and a swirl but the fish wasn't hooked. 'Bother!' (or words to tha effect) I muttered. I cast again so that the lure would come back past the spot where I'd had the bite. Sure enough as it reached the same point the lure was taken and I was in. What a tussle I had on the little Teklon rod and twenty pound Nanofil braid. It was a good five minutes before I managed to land the fish. It was nicely hooked on the big single and after a couple of pictures I weighed, unhooked and released it. Just over 18lb on my crude balance. A nice fish to finish off the session.
If you have any comments or questions about fish, methods, tactics or 'what have you!' get in touch with me by sending an E-MAIL to - docladle@hotmail.com
Tiddler.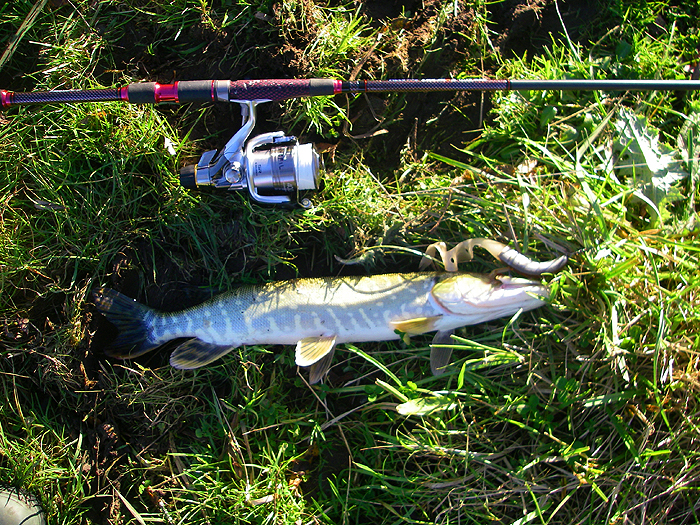 Beauty.
Nicely hooked.