Catch Fish with
Mike Ladle
"HOME."
Information Page
For anyone unfamiliar with the site always check the FISHING ARCHIVE and TACK-TICS pages. They now extend back as a record of four years of fishing and I keep adding to them so it's always worth looking at the latest entries. The Fishing Archive is effectively my diary and will take me some time to bring up to date but often several pages are added in the space of a week.
05 March 2005.
I live and learn.
There is nothing like fishing with someone else to improve your knowledge. My latest trip with my pals Stuart and Peri was an absolute mine of useful information. Stuart (Clough) is an old friend of mine and we have swapped ideas for many years. Stu came to fish for pike. I met Peri last summer when I was mullet fishing and being a mutual friend, he joined me and Stu for the session. Peri is an all round angler (like most of my pals) and he (being a very competent fly angler) was keen to catch a grayling on the fly.
We met at 10am and it was ****** cold. As we were setting up Stuart showed me his gadget for tying hooks (I must get one) and said that it vastly improves the hooked fish to bites ratio (I could do with that). Stu and Peri set about trying to catch a couple of pike baits but it was almost futile. After half-an-hour and two minnows they managed to find a few smallish grayling but it was hard work and the hoped for roach or dace were either torpid or absent. Anyway we set off after pike and we had not been fishing for more than a few minutes when Stuart had a reasonable fish.
Peri, meanwhile, was after the grayling and since they are a bit thin on the ground in that stretch of river, I felt it was going to be hard work. However, I am no great fly fisherman. In fact I must admit that, in the past, I have turned down possible grayling fishing trips because I thought that I would probably look stupid. All my fears were groundless - Peri's grayling tactics (a sort of short line Czech nymphing technique) is tailor made to my normal, very basic, style. He even gave me a few flies so I shall be giving it a go as soon as I have the chance. Oh! I forgot to mention Peri did manage a couple of grayling on the fly but I was on the other side of the river and did not get a picture.
Bait fishing.
Stu's first fish.
Nice grayling.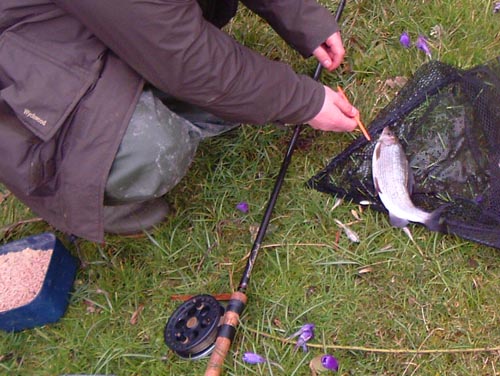 It's on!
Tired.
Lovely pike.
Fly fishing.