Catch Fish with
Mike Ladle
"HOME."
Information Page
Nigel came pike fishing with me again last weekend. To my surprise when he turned up, as well as his pike gear, he had a brand new coarse fishing rod and reel in the car. Apparently he had enjoyed the piking so much that he had joined a local club and decided to go the whole hog.
I was all set for pike fishing but I suggested that, after we had spent an hour or so after pike we could try for a grayling using float tackle. In fact I had caught a two pounder the previous week when I was fishing for pike bait and if anything conditions were better.
To cut a long story short we had only been using the dead baits for ten or fifteen minutes when Nigel hooked a decent fish. The pike weighed almost eighteen pounds so he was well pleased. No more bites were forthcoming, so we walked back upstream to a pool which I knew often held grayling.
Nigel had all the gear so he tackled up with a brand new float, shot and size 16 hook (the hook was so much smaller than he was used to that he passed a sceptical comment). We chucked a few maggots into the eddy on the near bank and after a couple of attempts Nigel was trotting the float down the edge of the glide beyond - only a yard or two from the bank.
On about the sixth trot the float went down and the rod bent to the weight of a good fish, perhaps a pound-and-a-half, which was duly landed. Five minutes later a second fish came to the net. Honour was satisfied and we decided to try for some more pike. Later that week, on the club water Nigel had four more grayling to the same method.
If you have any comments or questions about fish, methods, tactics or 'what have you.'get in touch with me by sending an E-MAIL to - docladle@hotmail.com
INFORMATION SPOT
RIVER FISHING
January 11 2002
A wobbled dead bait did the damage.
A two pound grayling taken on float fished maggot.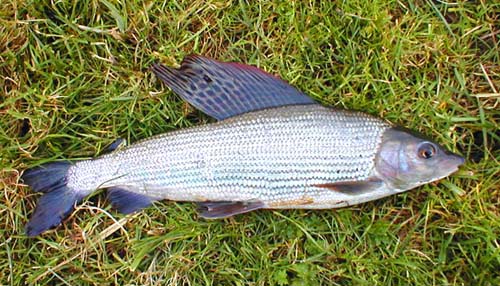 Nigel's first ever grayling.
Grayling are extremely delicate fish and must be returned with care.
Nigel's second grayling.