Catch Fish with
Mike Ladle
"HOME."
Information Page
For anyone unfamiliar with the site always check the FRESHWATER, SALTWATER and TACK-TICS pages. The Saltwater page now extends back as a record of over four years of (mostly) sea fishing and may be a useful guide as to when to fish. The Freshwater stuff is also up to date now. I keep adding to both. These pages are effectively my diary and the latest will usually be about fishing in the previous day or two. The Tactics pages which are chiefly 'how I do it' plus a bit of science are also updated regularly and (I think) worth a read (the earlier ones are mostly tackle and 'how to do it' stuff so if you are new to fly fishing or spinning these are the ones for you).
25 November 2006.
Perch puzzle.
It doesn't matter how long you have been fishing there's always something new to think about. What I really enjoy is trying to predict correctly what I will catch on a particular trip. If I set out to catch mullet on the maggot fly and finish up with nothing but bass it can be enjoyable and it may teach me something but it's not as satisfying as if I'd managed to catch the mullet. The truth is it means that I'd got it wrong.
The other day I decided to try plugging on the river with a J9F Rapala. I used a fine, knottable wire trace because of the risk from jack pike but otherwise it was just the lure on the end of the line. The gear was my spinning rod, reel and braid that I'd used for bass the previous weekend.I started off at a spot that often produces a perch or two from the lip of the weir. I cast right in under the white water and holding my rod tip down by the sill wound the lure in under the concrete face. It was several casts before I had a bite but when it came it was a decent perch of about a pound. I took a few pictures (perch are really photogenic fish) and began to fish again. There were no more bites under the race but after about five minutes I had a good take out in the pool and landed a perch bigger than the first one. I was chuffed - the usual stamp of perch (based on many sessions) when using these tactics is about 4-6 ounces. No more bites so I moved on downstream. The next bite (in fast water) turned out to be a nice, out of season, trout which I quickly unhooked and returned.
I moved on downstream fishing each likely place as I went. Several more decent perch and only one of the usual stamp fell to the Rapala and I hooked and lost another trout similar to the first one. At the downstream end of the reach I switched lures to a big silver spoon thinking that I might temp a pike or two on my return walk. It didn't work. In the first pool I had a knock which turned out to be another pound plus perch and a bit further up another one took the spoon as it hung in the water wobbling slowly. Amazing!
The question is not so much - "Why did I catch these good perch?" as "Where were they on every other occasion that I fished the stretch?" In all I must have covered a mile-and-a-half of river and did not catch two perch from the same spot so it wasn't just a matter of hitting a big shoal of good fish. Anyone have a sensible answer?
Perch territory.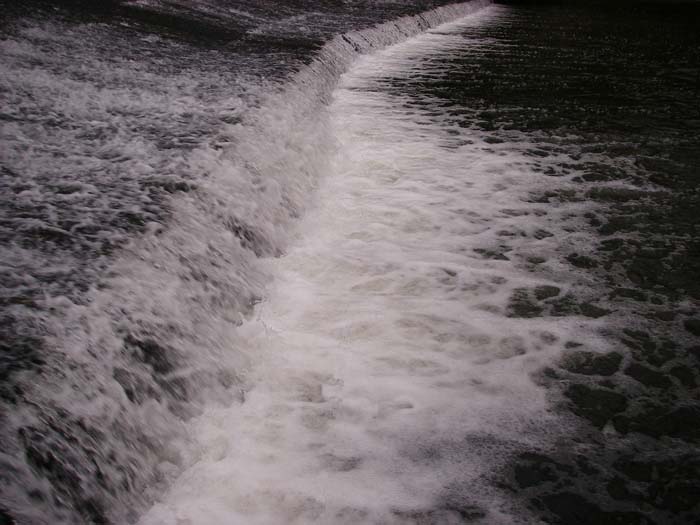 Nice perch!
Another perch.
Good one.
Accidental trout.
'Pike' spoon.